Windows
Triple Glazing
KJM in Andover Hampshire can now offer 44mm triple glazed units for the very best in heat insulation in your triple glazed windows. Using Planitherm soft coat (x2) and low iron glass, argon filled with Swisspacer Ultimate warm edge spacer the glass achieves a U-value of 0.62 and combined with our 70mm Veka system, will give a whole window U Value of 0.8. New to our range is the Residence 9 and Residence 7 44mm triple-glazed flush casement window.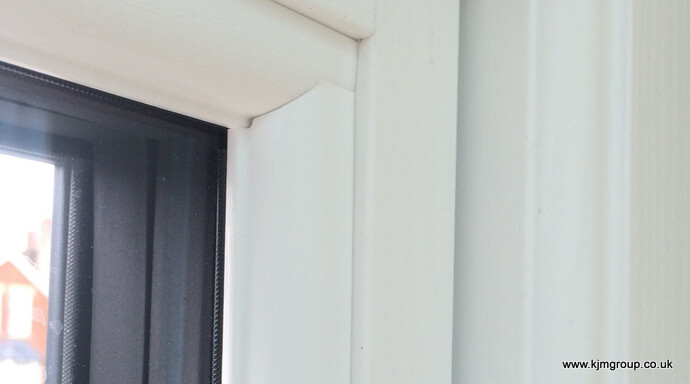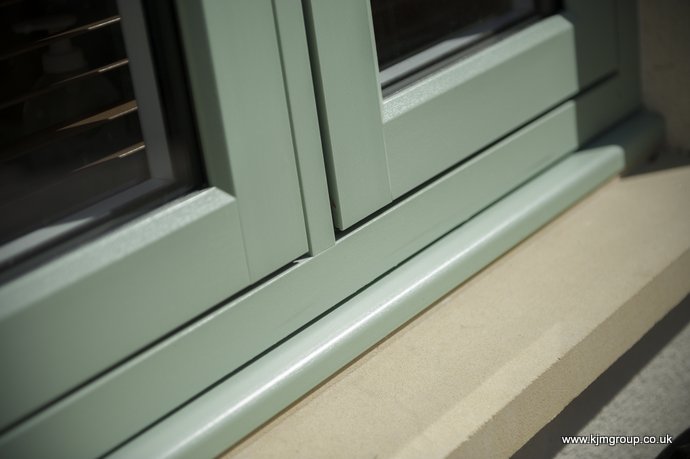 If you are thinking about replacing your windows and/or doors, then you should consider KJM's range of triple glazing. There is a lot written on the internet about triple glazing, some of which KJM would regard as either bias or incorrect. Whilst it's true than some triple glazing is not better than some double glazing, it is all about the specification of the glass and gaps. Generally speaking the most thermally efficient sealed units will have a gap between the panes of glass of around 16-20mm. When looking for argon filled triple glazing, the gaps between the glass should really be no less than 16mm, if it is smaller than that, the thermal efficiency may not match double glazing. We can offer four triple glazed systems: Veka, Profile 22 and both the Residence 7 & 9. They can accommodate a 44mm thick unit that provides the best insulation in the market today.
Our 44mm triple glazing has over 40% better insulation than our 'A' rated double glazing
The most thermally efficient windows in our range
It's also has over 25% better insulation than our rivals 36mm triple glazing
Veka frames have five chambers and are 70mm thick - Residence 9 windows have 9 chambers and a 100mm thick frame
Krypton gas option available on 28mm triple glazing
Laminate glass option for enhanced sound insulation
What is the u-value of triple glazed windows?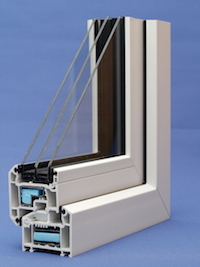 Building regulations are becoming more stringent regarding thermally efficiency. The method of comparing the energy performance of windows is to use the U-Value, as used when comparing walls, roofs and floors. Over time U-values in windows have dropped. When we only used single glazing, windows had a U-value in excess of 5, early double glazing reduced this figure to 3, but over the years the u-value on double glazed units has dropped to around 1.1, with the introduction of warm edge spacers, argon gas and low-e glass. 44mm triple glazing offers a centre pane U-value of around 0.6. This type of window offers over 40% better insulation than our "A" rated double glazing. It is in most cases over 25% better insulated than our rivals 36mm triple glazing. We can also offer 28mm triple glazed units (2 x 8mm gaps) filled with krypton gas and 3 layers of 4mm glass (as our 44mm system), which achieves a centre pane u-value of 0.66. We offer this smaller unit because some of our range cannot accept the wider 44mm units and some of our customers prefer the bead detail on the 28mm system. Krypton gas works better on smaller air-gaps than argon, but is MUCH more expensive than argon filled units. Either way KJM can provide a triple glazed unit to suit your requirements.
Our free Triple Glazing brochure can be downloaded.
Triple glazing manufactured with the Swisspacer Ultimate
Widely regarded as "The Ultimate Warm-Edge Spacer", the Swisspacer Ultimate sets a new benchmark for spacers (the bars that keep the units together) in energy efficiency, comfort and dimensional stability. This spacer bar improves on the previous Swisspacer V by 20% (reduced thermal conductivity)
Strong and rigid structure of spacer bar - ideal for triple glazed sealed units
High tech gas barrier stops moisture getting in and the insulating gas getting out
Also used on our double glazed units
Save Energy with Triple Glazed Windows
Triple glazing is widely used in cold climate countries like Sweden and Norway and has been for some time. The physics of triple glazing have been worked out in Germany by the PassivHaus Institute. It has shown what happens to the internal surface temp­eratures on various forms of glazing when its really cold outside, and the internal air temperature is at 21°C:
A single-glazed window, the internal surface temperature is around 1°C.
A typical double-glazed window fitted 10 years ago the surface temperature is around 11°C.
A modern, energy-efficient double-glazed window, the surface temperature is 16°C.
A triple-glazed window, with a centre-pane U-value of just 0.65, the temperature is 18°C.
Other advantages of triple glazing are:
Improved security over double glazed windows, due to the extra pane of toughened glass
Sound Insulation? Although there maybe a small improvement over a double glazed unit, there is no major gain having triple glazing with three equal thicknesses of glass. The best solution would be with a thicker centre pane, but there are concerns with the overall weight of the unit and the durability of hinges etc on larger opening windows, but in most cases a standard side opening casement is fine. Please enquire for further information.
Triple glazing energy saving summary
44mm sealed units filled with two 16mm cavities of argon gas. Argon gas is heavier than air, so acts as an insulator
Warm edge spacer bars made from a composite material to stop the cold-bridge across the unit.
Two coatings of low-emissivity glass (Low E). This is a microscopically thin coating that stops the heat from your house going outside.
Internally glazed windows offer added security and prevents the removal of the glass from the outside.
Available in the Veka & Residence 9 and Residence 7 systems as a 44mm unit.
Managing Director - Mark Pearce talks about the benefits of triple glazing and warm-edge Swisspacer
Will installing triple glazing cause overheating in the summer?
This is a common misconception, the level of solar gain is actually less than a double glazed unit due to the extra pane of glass and cavity. The overall energy balance of a triple glazed window will ensure that more heat is retained in the room in the colder months of the year. This can cause a small problem in the winter months as the external pane of glass is not being heated from the house and this will result in external condensation in certain conditions. This will generally happen on a cold, clear and still winter's nights and will normally clear quickly in the morning. Further information can be found on our Condensation webpage.
A personal view from KJM's MD on Triple Glazing can also be found on our Blog Triple Glazing
Visit our showroom in Andover to see both the Veka & Residence 9 - R9 systems
Triple glazing is obviously more expensive than double glazing, but as a comparison it does not add much more than 25% to the double glazed costs. This would work out at about £80-£100 on an average size window.
The best triple glazed windows come with Swisspacer Ultimate
Triple glazing across southern England & London including Hampshire, Berkshire, Dorset, Surrey & Wiltshire.
Our no pressure promise
At KJM Windows & Conservatories, we pride ourselves on our no hassle, no pressure approach to providing high quality home improvement products to the thousands of customers who have put their trust in us since 1982.
find out more