Conservatories
Conservatory Roof Replacement
Older conservatories may have been installed with polycarbonate, or glass that's not thermally efficient. A replacement conservatory roof can transform your conservatory. Modern glazing is so much more efficient, in fact our reception at our showroom is a conservatory, we feel confident that whatever time of year you come to our showroom, you can see and feel the benefits of 21st century glazing. KJM from Andover in Hampshire have the solution to your problem.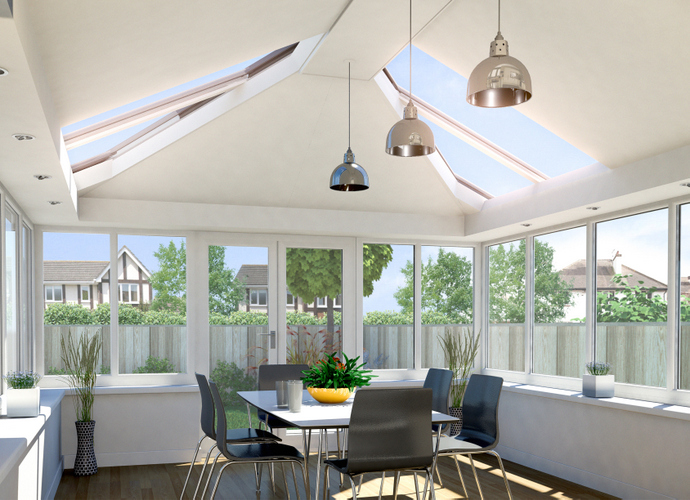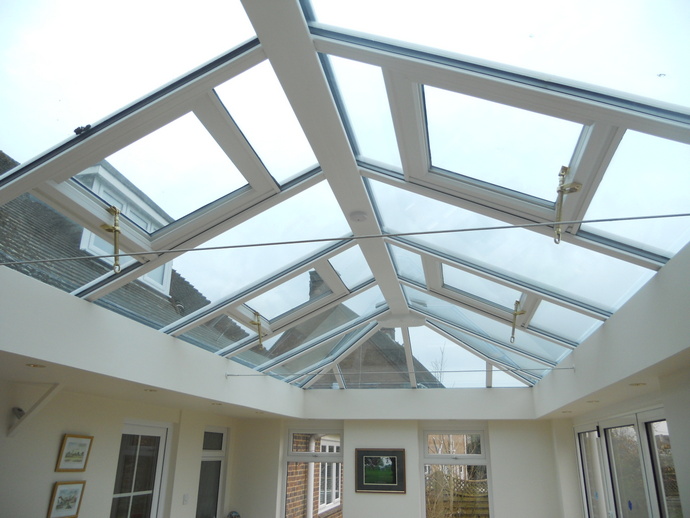 Replacement Conservatory Roof Brochure
There are many reasons why customers have replaced their conservatory roofs. The most common are:
Increasing insulation, cooler in the summer, warmer in the winter
Reducing glare
Leaking roofs
Sagging roofs
Storm damage
Discoloured roof panels
Changing polycarbonate to glass
Please also view our Blog Page about replacing a conservatory roof. A personal view from KJM's Managing Director Mark Pearce with video content
It is often possible just to change the roof panels, as technology has progressed over the years, you can have much better insulation from polycarbonate, today's panels are up-to 40mm thick and come in a variety of shades. Old roofs had 10-16mm panels.
The quality, look and feel of a glass roofed conservatory is second to none. If you want to see the sun, the stars and the sky, then glass is the only option. Another major advantage is glass is much quieter than polycarbonate in the rain. It is more expensive than polycarbonate but worth the extra money to most. There are a variety of glass options, including solar control, self cleaning, argon filled units and coloured anti-sun glass.
It is worth pointing out that is not always possible to reglaze an existing polycarbonate roof with glass units, as the supporting structure may not be able to handle the considerable extra weight and be able to support it in extreme weather conditions. We would suggest a free no obligation survey would be the best way to determine what solution would suit you best.
New roof structures are provided through our supplier Ultraframe. Further information on roofs, polycarbonate and self cleaning glass can be found in our Conservatory brochure download section
KJM are part of the Ultra Installer scheme, you can download our BBA inspection here
Replacement Conservatory Roofs from KJM in Hampshire. We serve Berkshire, Dorset, Wiltshire and Surrey
Our no pressure promise
At KJM Windows & Conservatories, we pride ourselves on our no hassle, no pressure approach to providing high quality home improvement products to the thousands of customers who have put their trust in us since 1982.
find out more