Doors
Bi-folding Doors - Bi-fold Doors - Visofold 1000
KJM installs Smarts aluminium Visofold 1000 "pillar-less" sliding folding door systems. Often called bi-folds or bi-folding doors. We have a four pane bifold door installed in our showroom in Andover, so why not pay a visit to view them. We install bi-folds across Hampshire, Berkshire, Surrey, Wiltshire and southern England.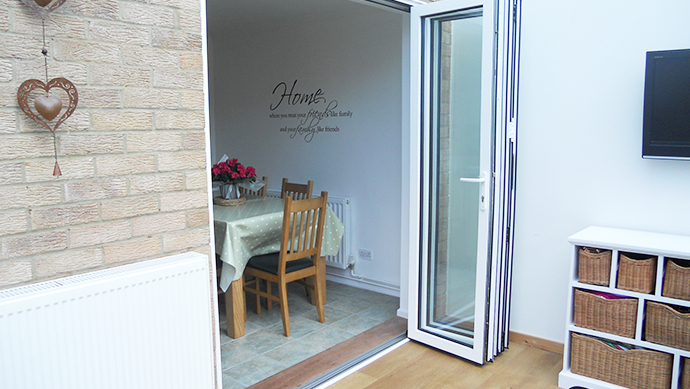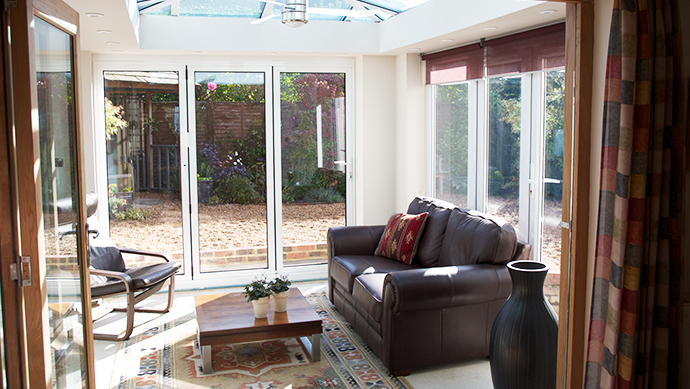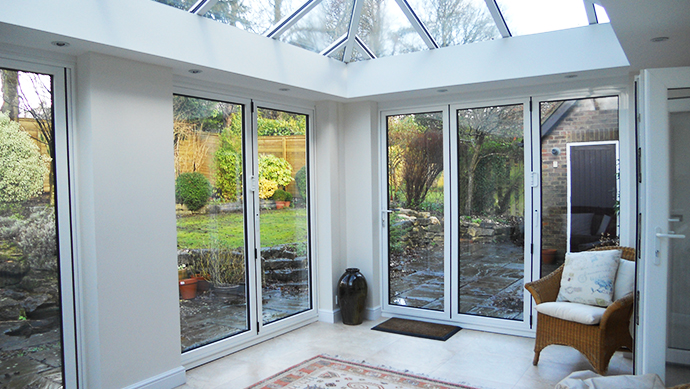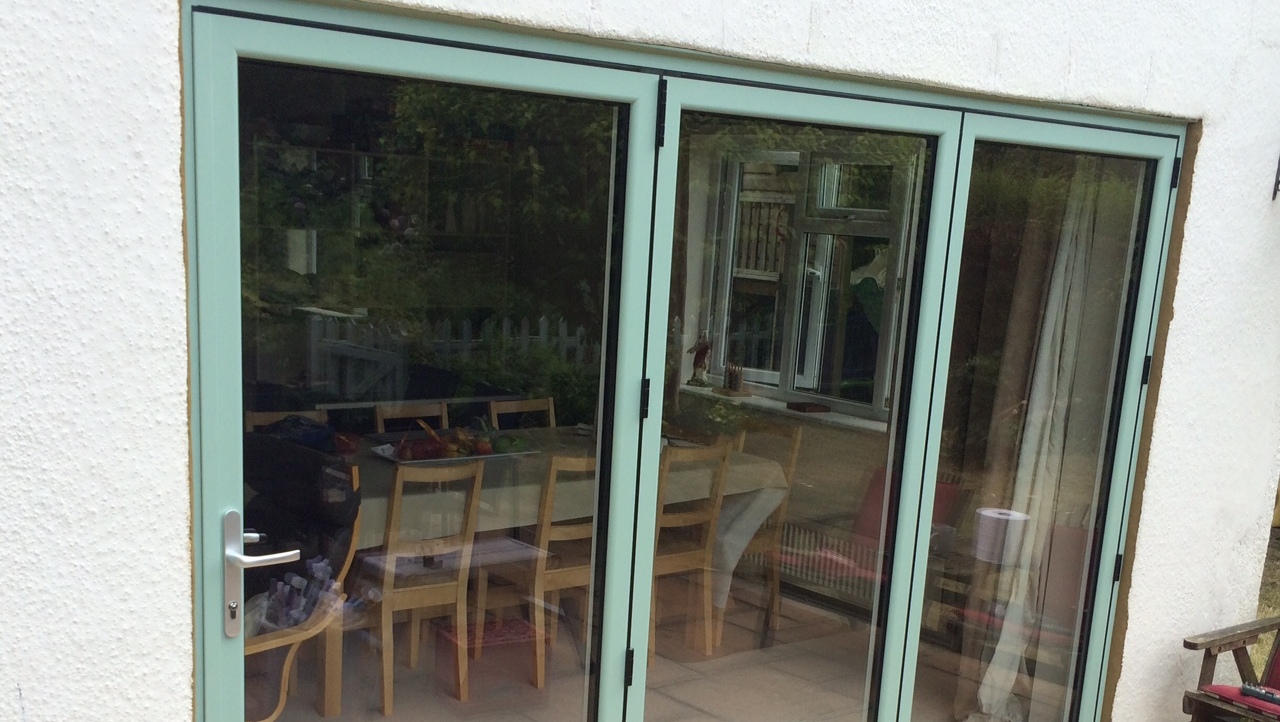 Bi Fold (Bi-folding) doors are an ideal room divider between your house and conservatory and if you really want to open up you living areas to the outside world, Bi Fold Doors offer a light and spacious option.
Available in almost all RAL colours, with the dual option of different colours on either side available, Smarts bi-folding patio doors come with the assurance you expect from a quality designed product. The Smart aluminium profiles are designed to give strength and durability to ensure a structurally sound product that requires minimal maintenance and delivers reliable performance over a lifetime of use.
KJM at present does not offer a uPVC bi-folding doors option.
Bi-Fold Door Features:
Choice of open in or out, stack left or right, open at the centre, end or in-between
Pillar-less doors from SMARTS
Colour co-ordinated handles available
Slim sightlines allow more light into the building and give a pleasing appearance
Ultra-low threshold option where unimpeded access is required (Internal use only)
Attractively styled round-edge profiles
Aluminium profiles offer low maintenance over the long term
High security hook bolt lock and one piece keep
Handle integral to lock mechanism and locking shoot-bolts
Highly engineered and robust hinges
Specially designed stainless steel rollers give smooth and easy operation
High quality EPDM gaskets and weather brushes to aid weather proofing
Large Polyamide thermal barrier reduces heat loss and improves thermal performance
Dual colour option available
Hardware options - handles and hinges available in black or white
Patio door including bifolding doors brochures download
Smart Aluminium Bi-folding door brochure
Smart Aluminium Patio doors including bi-folding doors (Full brochure)
Thinking about replacing any of your old doors?
To find out more about the many different types of door options we have available, call us on 01264 359355 or email sales@kjmgroup.co.uk. Alternatively why not visit our showroom to see our entire range of bi-fold doors. Online pricing enquiries are welcome
Bi-Folding - Bi-fold Doors Hampshire - We install in Surrey-Dorset-Wiltshire-Berkshire-London
Our no pressure promise
At KJM Windows & Conservatories, we pride ourselves on our no hassle, no pressure approach to providing high quality home improvement products to the thousands of customers who have put their trust in us since 1982.
find out more