Conservatories
Lantern Roof - Roof Lanterns - Ultrasky - Atlas - Korniche
The Lantern conservatory style was the original conservatory style when they were known as orangeries. For those with the right budget, a lantern roof makes a fantastic statement of grandeur and elegance. We can offer the Ultraframe Ultrasky roof lantern in white, grey or black, we also can offer a 44m triple glazed all aluminium option and a standard uPVC capped aluminium system. You can visit our showroom in Andover Hampshire for further information and to view the roof.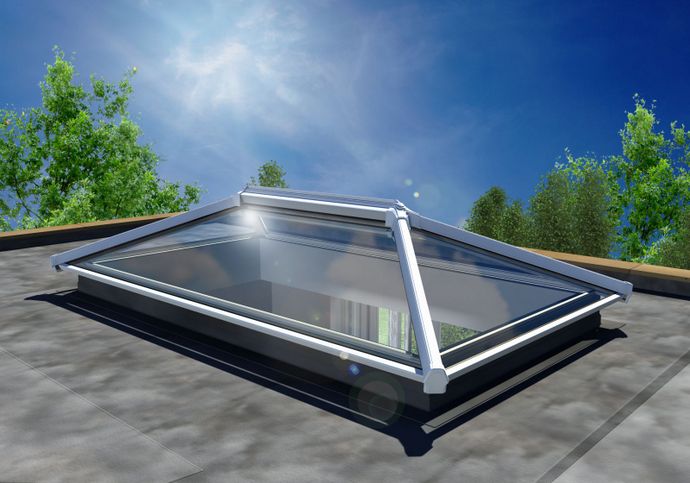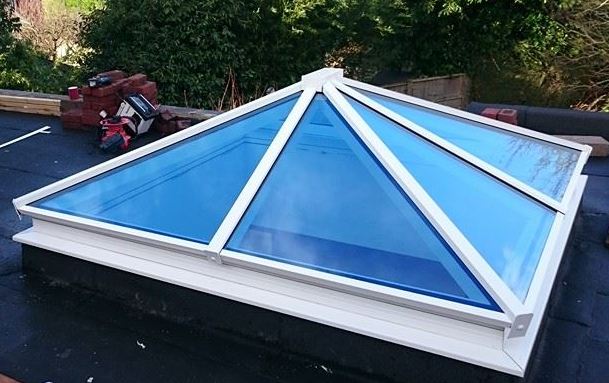 Our stunning range of roof lanterns can be a beautiful addition to any flat roof or extension, adding natural light and volume to the room below. We offer made to measure roof lanterns or you can choose from a wide range of set sizes from the Ultrasky range. They are suitable for both new build, extensions and refurbishment projects. Our roof lanterns are particularly popular as part of single storey extensions. They are commonly used above kitchens, dining rooms and living rooms, a roof lantern adds a spectacular focal point.
Lantern roofs often feature a two-tier roof on different levels, creating a 'wedding-cake' effect. The two levels can be separated by a row of windows that is highly stylish and makes this style ideal for period properties of Victorian and Edwardian vintage, They can be added to existing flat roofs or incorporated in to a new extension.Todays modern lanterns are often selected without addditional windows. Which lantern roof you decide upon, the overall impression is of height, light and grandeur. A lantern conservatory roof is spacious and offers an uninterrupted view of the sky. With a two-tiered roofing structure, you get to use more windows, which means that more ventilation is available. We also offer a range of electrically powered opening side windows and roof vents, that can be thermostatically controlled.
A roof lantern is becoming a popular choice for extensions especially flat roof. We specialise in both a supply only service (please email your dimensions for a cost) and a supply/fit service. We have fitted numerous examples across Hampshire & Wiltshire.
Combining your new roof with the latest high insulation self cleaning glass in a subtle blue tint can create a stunning effect to a flat roof. We can now also offer a 44mm triple glazed version in aluminium.

Lantern roof glazing options/Brochure
See our web page Roof Glazing Options page for further details.
Ultrasky Roof Lantern
Download our free Ultrafame UltraSky brochure
Download our free Ultrasky roof options brochure
Atlas Roof Lantern
Download our free Atlas Roof Lantern brochure
Korniche Roof Lantern
Download our free Korniche Roof Lantern brochure
Roof Lantern Options
Available with roof vents (manual or electric) with thermostat and rain sensors
Available with either PVCu or aluminium cappings
Slimline systems including the Korniche, UltraSky and Atlas roof lantern
Atlas roof Lanterns available with 44mm triple glazing
Tinted and other glass options available for roof glazing
Can be specified with upstand windows to create a taller roof (wedding cake effect)
Coloured options available
Supply only - Trade roof lanterns available
Use our contact us form with your sizes for a quotation

Lantern Roofs across Southern England including Hampshire, Berkshire, Wiltshire, Dorset and Surrey - We can supply your roof in any colour - Materials include PVCu, aluminium and timber
Our no pressure promise
At KJM Windows & Conservatories, we pride ourselves on our no hassle, no pressure approach to providing high quality home improvement products to the thousands of customers who have put their trust in us since 1982.
find out more