Windows
Secondary Glazing - Sound and heat insulation

Secondary glazing is a great way to enjoy warmth, security and quietness of double glazing without replacing your existing windows. Secondary glazing will reduce sound transmission by up to 70% and improve your heat insulation. Secondary glazing is ideal to reduce noise and draughts. Many of our designs (especially our triple-track system) can incorporate a fly-screen - allowing you to leave your windows open at night during the summer. Secondary is easy to fit, very affordable and being made from strong and slim aluminium will give many years of trouble-free service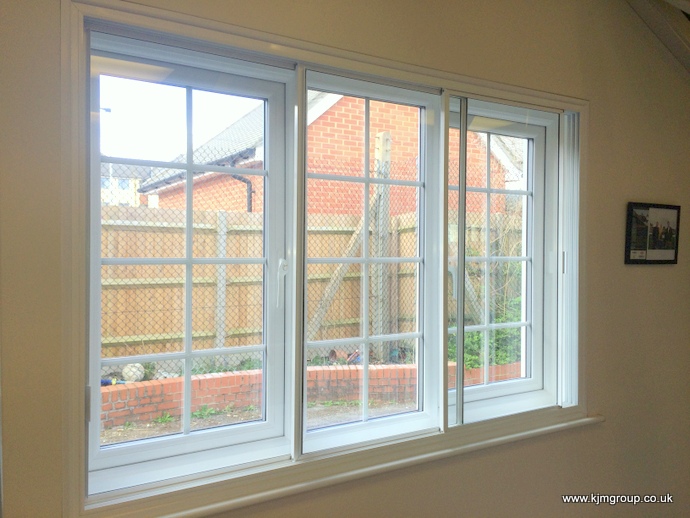 The image above shows a three section horizontal slider secondary glazed unit
Aluminium secondary glazing
Secondary glazing is particularly useful when replacement windows are not suitable for your property and is ideal for homes that are traditional, listed buildings, in conservation areas or just don't need replacing. The slim aluminium frames are strong and durable providing many years of service. We install secondary glazing across Hampshire, Wiltshire, Dorset, Berkshire & Surrey, we also offer a "supply only" self-fit option.
Secondary glazing involves adding an extra slim-line window to the inside of your existing window, KJM's units are manufactured in the England from strong lightweight aluminium, that can be directly fixed to the existing windows, or manufactured with a sub-frame to allow for either reveal fixed or face fixed. The wood used for the subframe is either MDF (medium density fibreboard), Luan (dark hardwood) or Tulip (pale hardwood). The optimum gap to reduce heat loss and keeping external noise to a minimum is 100mm between the secondary glazed unit and your existing window (glass to glass). However, this would normally mean that little or none of the internal cill would be left. Changing the thickness of the glass between your existing window and your new secondary glazing will change the frequencies of the sound wave length and reduce noise further. i.e. Existing window glass 4mm - install secondary glass 6mm.
For an even better thermal performance, you can specify Pilkington K low e glass.
The most common systems manufactured are sliding units, that can be either horizontal or vertical. However tilt back vertical sliders, hinged units, lift out units or fixed units are available. We have an installed example of our secondary glazing (3 pane horizontal slider), in Andover, Hampshire.
Download our free Secondary Glazing Brochure
Customer Feedback
Secondary glazing really can make a difference to sound insulation, see why with a letter from Anne in Woking
"Hi Dan …. quite a delay in some feedback, but worth doing. Just want to say this secondary glazing has been fantastic. Impact was immediate in terms of noise reduction - turned the noise of passing traffic to a very low level which we needed since our bedrooms are at the road side of the house. I spent 5 mins playing with the sliding windows to show everyone the impact ! I had looked at possible solutions for months and had seen reference to secondary glazing but not really believed it would make a difference. And the fact that the design means you can slide open means you retain the flexibility of opening windows when needed."
Secondary Glazing Sound Insulation
The gap between the original window and the new secondary glazing is one of the most important things to consider regarding sound insulation. The most common size pane of glass in the original household glazing would typically be around 4mm, unless the property is pre 20th century, then it could be 3mm.
So if the original house glazing is 4mm and the secondary glazing is 4mm, the gap would need to be around 150mm between the original window and the new secondary glazing for optimal sound insulation.
With 6mm glass in the secondary glazing this gap could be reduced to 100mm.
If the reveal (or window cill depth) cant accommodate a 100mm gap then laminate or acoustic glass like Stadip should be considered for maximum sound insulation.
In general terms the larger the gap the better the sound insulation.
Stadip Acoustic glass for the best performance
Stadip Silence glass is a laminated product from Saint-Gobain. Laminated glass is a sandwich made of one piece of plastic Poly Vinyl Butyral (PVB) between two or more glasses. The PVB in Stadip glass is a special acoustic interlayer - PVB Silence®. This layer acts like a dampening core between the two panes of glass. It prevents vibration, eliminating the problem of the critical frequency and thus the acoustic peaks at high frequencies. Download our free Stadip Silence brochure.
To what extent does secondary glazing reduce sound pollution in the home?
Secondary glazing correctly specified and installed will acoustically outperform all other types of glazing, including new windows and even triple glazed ones. Installing good secondary glazing really is the best option eah and every time. To achieve up to an 80% acoustic performance KJM recommend the specification of acoustic glass and an air cavity no less than 150mm – 200mm glass to glass
The benefits of secondary glazing:
Secondary glazing is one of the best ways to reduce noise and sound proof your windows, it can reduce external noise by around 75%. This can be enhanced further by specifying either Laminate glass or Stadip Acoustic Glass.
Draught Proofing is the other most common reason to install secondary glazing.
Low E Pilkington K glass (option)
Our secondary glazed system can even incorporate fly-screens
Extra security
Retains the exterior look/character of the property
Secondary Glazing Options
Horizontal slider
Side Hinged
Vertical Sliding
Fixed Units/Lift Out
Butt Hinged
Butt Hinged secondary glazing comes as either a single or double panelled unit. The butt hinges give a large clear opening which allows for easy maintenance and cleaning. The clear opening may also be of benefit where the window is a means of escape. Our butt hinged units are made from slim and strong aluminium. The butt hinges allow for the secondary unit to open fully. These butt hinged units are only side hung but our friction hinged secondary glazing is available in both top and side hung styles.
Lift Out
The secondary glazing standard lift-out is a removable secondary glazing panel within its own outer frame that is fixed to the face or reveal of the existing primary window. The integral finger lift bar at the bottom of the panel allows it to be lifted up into the top of the secondary window outer frame and then swung inwards to facilitate removal.
Tilt Back Balanced Vertical Sliding
Designed to match existing sash windows, our Tilt Back balanced vertical sliding secondary glazing is one of our most popular secondary glazing products. They reduce noise, cut heat loss, are easy to fit and are very affordable. Our tilt back balanced vertical slider is made from slim and strong aluminium. The panels are balanced - reducing the effort required to slide the panels up and down. The balances also mean the panels remain in position at whatever height you leave them. By operating finger latches the panels can be tilted inwards for easy cleaning.
Horizontal Sliding
Our horizontal sliding secondary glazing is extremely versatile, slides smoothly and is available with two to five panels. Horizontal sliders are perfect for sound and thermal insulation for casement windows, hinged windows, or any window that has vertical bars. Panels slide within the frame allowing easy access to the existing outer windows, providing ventilation without interfering with curtains or blinds.
Secondary Glazing FAQs
Is secondary glazing as good as double glazing?
Secondary glazing is an absolute winner, if sound insulation is your ultimate goal. It provides much better levels of acoustic insulation than double glazing, this is because you can create a much larger gap or cavity between the panes of glass. The makes for a far better sound dampening effect than double glazing as most double glazed units only have a 16mm or 20mm gap. If your primary window is poor to start with then this is the correct starting point is for repair or replacement, adding secondary as well can reduce sound levels by as much as 70 to 80%. It is an easy way to introduce three different thicknesses of glass, the ultimate way to improve sound insulation.
Double or even triple glazing offers better thermal performance than secondary glazing. Finally if you live in a listed building then secondary glazing maybe your only option for both heat and sound insulation.
How much does secondary glazing cost?
Secondary glazing costs much less than new windows, the installation is easier, there is less mess and it is much quicker. There are variables that affect the costs. These include:-
Size of the window
Opening style, fixed or lift out windows are cheaper than sliding ones
Glass choice 4mm or 6mm glass, toughened glass, laminate glass, low-e glass, or stadip acoustic sound insulating glass? These can change the cost by as much as £60 per square metre
Heavy duty or budget systems with slimmer profiles
Installed cost or supply only?
Quoting is easy, all we need is a photograph of the existing window and some sizes. We can advise and price for you without a home visit.
What is secondary double glazing?
Some people say secondary double glazing is adding a second window to your exisiting window. If the original windows are single glazed then adding a second pane could be described as double glazing, so is it triple glazed if the original window is already double glazed? You can infact get secondary double glazed units, but these are expensive and in most peoples minds not worthwhile.
What does secondary glazing look like?
Secondary glazing sits on your internal window cill, simply put, it is panes of glass that are in an aluminium frame fixed to your window reveals or the inside face of your window frame. The first scenario is 'reveal fixed' the second 'face fixed.' The units can be sliding, hinged or lift out. There is a photo of a typical three pane slider at the top of this page. A secondary glazed window means leaving the existing primary window in place and adding a second window.
Does secondary glazing add value?
Most estate agents would agree that the addtion of secondary glazing will add value to your home. However how can this value be quantified? If you have installed secondary glazing to reduce the noise in the home then this value will be noticed when trying to work or sleep in your home and would be a great selling point. Potential purchasers will hear the noise if you don't have sound reducing glazing and maybe, be put off buying your home. The added benefit of heat insulation will also save on both heating and cooling bills, particularly important if the existing windows are only single glazed.
Thinking about secondary glazing? Secondary Glazing prices?
To find out more about the many different types of secondary glazing solutions call us on 01264 359355 or email sales@kjmgroup.co.uk Alternatively why not visit our showroom in Andover, Hampshire to see our entire window range. You are welcome to email a picture/sizes of your windows for us to provide an online quote for secondary glazing prices.
Secondary glazing - KJM in Andover Hampshire. Also in London, Surrey, Berkshire, Dorset & Wiltshire
Our no pressure promise
At KJM Windows & Conservatories, we pride ourselves on our no hassle, no pressure approach to providing high quality home improvement products to the thousands of customers who have put their trust in us since 1982.
find out more