Windows
Tilt and Turn Windows
A tilt and turn window is a continental design, that opens and tilts inwards. Windows that open inwards are very popular in Europe, they fit very well with external shutters/louvre, essential in sunny climates or south facing elevations. Available to view in our showroom Tilt & Turn windows in Andover Hampshire
Tilt and turn windows are versatile and are a flexible "double operation style window" The tilt function offers a way to get secure ventilation, the turn function makes cleaning windows above ground floor very easy. These types of windows are particularly useful when conventional outward opening windows are not possible or advisable. This could be when windows are on the ground floor and would open onto a street or pathway, or applications where external shutters are being used.
As the windows open inwards they can easily be cleaned from inside and makes fire egress second to none, with the correct size opening.
Tilt and turn windows have gearing that generally run around the perimeter of the sash. This means the openings can be much bigger than conventional casement windows, and it is possible to manufacture the windows to door size!
So, if your desire is for clean modern lines, the tilt and turn window is the answer.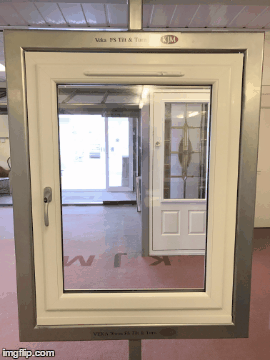 Tilt and turn windows features:
Inward Opening Window with tilt function
Energy 'A' rated
Single handle (choice of colours) with dual function
Tilt for ventilation
Turn for easy cleaning and egress
Much larger openings possible over standard casement windows
Can be made in to a dual function patio style door
Larger panes of glass can provide uninterrupted views to the outside
Tilt & Turn Window - 44mm Triple glazing option available
Download our free brochures:-
Veka Matrix tilt and turn/casement brochure
Swisspacer warm edge spacer
Spacer bars which conduct less heat at the edge of the glass are referred to as 'warm edge spacer'
The benefits are as follows:
Reduced heat loss through windows
Condensation on windows can be reduced
Better sound insulation
Argon Gas filled sealed units
Filling the gap between the panes increases the thermal performance of insulating glazing units is to reduce the conductance of the air space between the layers. Originally, the space was filled with air or flushed with dry nitrogen just prior to sealing. In a sealed glass insulating unit, air currents between the two panes of glazing carry heat to the top of the unit and settle into cold pools at the bottom. Filling the space with a less conductive, slow-moving gas minimises the convection currents within the space, conduction through the gas is reduced, and the overall transfer of heat between the inside and outside decreases.
Low-E Glass
High-performance Low-E (low emissivity) glass is designed to reduce heat loss and must be used on energy rated windows. There are two types of low e glass, Hard Coat and Soft Coat, we use soft coat glass as it gives the following benefits over hard coat:
Better light transmission
Better U-Values
Enhanced clarity/neutrality.
As responsible double glazing suppliers, the KJM sales team will advise on safety aspects of your windows. For example, the law insists you have toughened glass for any pane less than 800mm above ground or floor level but you might also consider using it optionally in places such as above a child's bed or table.
The tilt and turn window is available in white, white woodgrain, rosewood and golden oak.
Our no pressure promise
At KJM Windows & Conservatories, we pride ourselves on our no hassle, no pressure approach to providing high quality home improvement products to the thousands of customers who have put their trust in us since 1982.
find out more