Windows
Sliding Sash Windows Hampshire from KJM in Andover
Traditional homes require traditional windows and Hampshire based KJM's vertical sliding sash windows perfectly suit Victorian style homes, many different types of older homes and indeed some modern homes too. We can install timber and uPVC versions and the results can look stunning with either system.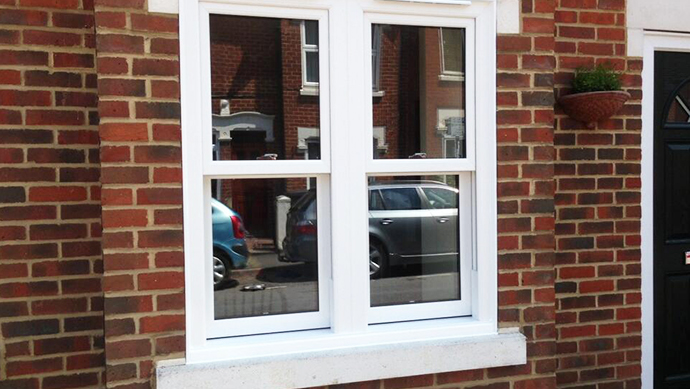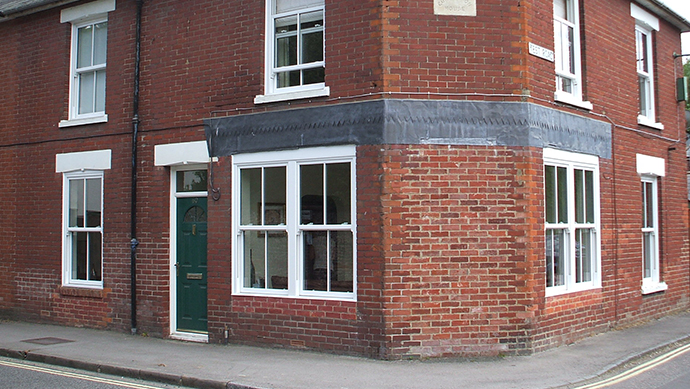 Our sash windows of choice are manufactured from Veka profiles or new for 2017 the Ultimate Rose Collection that are manufactured from uPVC. We also offer a timber sliding sash from our Dempsey Dyer range. These can be manufactured with traditional weights and pulleys.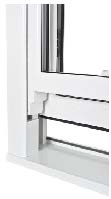 The Veka Vertical Slider was one of the first on the market to be given an Energy A rating.
These windows also have a tilt back facility for easy cleaning, run through horns (as opposed to cheap looking stuck on ones) and travel restrictors (option) to really make a first class window for your home. The travel restrictors, restrict the amount the window can open. This enables you to leave your windows open securely as there is only a small gap left at either the top or the bottom.
The workings and history of a Sash window
Sash windows are an inherent part of British architectural history and were introduced in the late 17th Century. A traditional sliding sash window is usually made up of two sashes that slide up and down, modern ones can also tilt for easy cleaning. They were commonly used in Georgian, Regency and Victorian properties. The original timber window was counter-balanced, the weight of the glazed panel was balanced by a heavy steel, lead, or cast-iron sash weight concealed within the window frame. The sash weight is connected to the window by a braided cotton sash cord, or a chain, that runs over a pulley at the top of the frame. Modern uPVC sash windows are manufactured with spiral-spring type balance. The Veka VS uPVC double glazed window is available in many colours.
Vertical Sliding Sash Window Features:
Timber Option
Locking Handles
Double glazed for increase thermal efficiency WER Energy rating 'A'
Astragal Bar Option
Deep Bottom Rail Option
Optional Travel Restrictors (leaving a secure gap when open)
Easy Clean tilt back facility
Pole loops (giving a traditional look)
Run through Sash Horns
Download our Veka uPVC Sliding Sash brochure
Download our Rose Collection uPVC Sliding Sash brochure
Ultimate Rose window
Every detail of the Ultimate Rose has been designed to replicate the charm and character of a timber sash window. With slim timber-like profiles and an industry-leading 35mm meeting rail, no other sash window can compete with it on style and authenticity. With period features as painstakingly detailed as joinery-style mechanical joints, a deep bottom rail, run-through horns and external putty lines, it would take an expert to spot that it's uPVC. You won't find any welds on an Ultimate Rose – everything is fully mechanically jointed. Using custom-designed jigs, blocks and brackets, every join on the frame and sashes is finished as a butt joint – just like a timber window. What's more, the frame is joined horizontally while the sashes are joined vertically. Not only does this add strength and rigidity, it accurately mimics the way original timber sashes were joined. You can view all our window options in our showroom.
Astragal Bars on our windows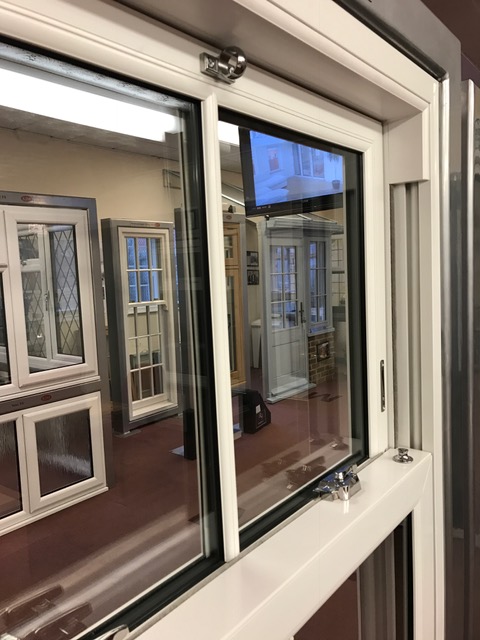 Astragal Bars can be fitted to any product enhancing the look of windows, doors & conservatories by giving them the traditional Georgian appearance of individual panes. They are fitted to the external face of the glass. Colours available are white or a choice of woodgrain foils. Using interbars on the double glazed sealed units gives the window an appearance of multi-panes.
The traditional timber sash windows that can be manufactured with your choice of cords and weights or the spiral balance operation.
Windows and Energy ratings
Spacer bars which conduct less heat at the edge of the glass are referred to as 'warm edge spacer'
The benefits are as follows:
Reduced heat loss through windows
Condensation on windows can be reduced
Better sound insulation
Argon Gas filled sealed units
Filling the gap between the panes increases the thermal performance of insulating glazing units is to reduce the conductance of the air space between the layers. Originally, the space was filled with air or flushed with dry nitrogen just prior to sealing. In a sealed glass insulating unit, air currents between the two panes of glazing carry heat to the top of the unit and settle into cold pools at the bottom. Filling the space with a less conductive, slow-moving gas minimises the convection currents within the space, conduction through the gas is reduced, and the overall transfer of heat between the inside and outside decreases.
Low-E Glass
High-performance Low-E (low emissivity) glass is designed to reduce heat loss and must be used on energy rated windows. There are two types of low e glass, Hard Coat and Soft Coat, we use soft coat glass as it gives the following benefits over hard coat:
Better light transmission
Better U-Values
Enhanced clarity/neutrality.
Sliding Sash Windows FAQS
Can you get uPVC sash windows?
Yes you can. uPVC sash windows or vertical uPVC sliding sash windows have a classic design and elegant appearance that add a traditional charm to character homes, especially from the Victorian era. uPVC windows are considerably cheaper than timber and are designed to look and function exactly like the traditional sash window. Features including sash horns, grained profiles and traditional furniture really do make it hard to tell the difference.
What's the difference between sash and casement windows?
Sash windows slide vertically, casement windows generally operate like a door, they can open either inwards and outwards. Older sash windows are usually harder to clean although most new ones can be specified with a tilt back option for easier cleaning. The operating mechanism of a sash window is more complex than a casement window.
Can I replace sash windows with casement windows?
Before changing the design of any window it is always worth thinking about the character of the property. If the property is in a conservation area or is the building listed? If this is the case then it may not be possible to change to a modern windows without the need of planning permission. Even changing from single glazing to double glazing can be a problem with listed buildings. Sash windows are generally different dimensions to a conventional modern windows, so casements may not work so well with the dimensions of the older style of window. Finally changing the style could have an impact on your house value and could also make your home less desirable to future owners, if you decided to sell it.
How much does a sash window cost?
A question that is not easily answered. An average sash window is normally around 900mm in width and just over 1500mm tall, however the sizes can be much bigger and even smaller, this of course has a bearing on the installed cost. As a guide a uPVC sliding sash window start at around the £900 mark, a timber window is in excess of £2200, both prices include fitting and VAT (prices from 2019 price guide)
How does a sash window work?
Sash windows normally comprise of two vertically sliding sashes, the top one sliding down and the bottom one sliding up, meaning you are left with approximately half the opening as a maximum. This can be some at the top and some ventilation at the bottom at the same time. Modern windows normally have a tilt back facility for cleaning and can have a lock to limit the opening to enhance security and easy access from the outside. This provides peace of mind for ground floor windows. Older timber sash windows were counter-balanced by a weight attached via a cord to the sash, the weight of both being about equal, to ease moving the sash. Modern windows tend to be manufactured with a spiral balance spring to achieve the same process. This of course is a cheaper option as some of the old weights were made from lead.
Thinking about replacing any of your old windows?
To find out more about the many different types of window solutions call us on 01264 359355 or email sales@kjmgroup.co.uk. Alternatively why not visit our showroom in Andover Hampshire to see our entire window range.
Veka & Rose Collection - We install across Southern England including Hampshire. Berkshire, Dorset, Wiltshire, Surrey and London - KJM the best choice for double and triple glazing.
Our no pressure promise
At KJM Windows & Conservatories, we pride ourselves on our no hassle, no pressure approach to providing high quality home improvement products to the thousands of customers who have put their trust in us since 1982.
find out more