Timber - PVC - Aluminium - Windows, Doors & Conservatories in Dorset
Choosing the right windows for your home
Choosing the right windows for your home
Buying the right windows and doors for your home can mean that the difference between choosing the correct window and the cheaper option, might haunt you for many years.
There are many things to consider, it's not just always the colour and number of openings to decide, it's the style of window initially chosen. There are many options to consider:-
Victorian properties for example were normally built with timber sash windows, replacing these with top hung casement windows can ruin the character of a period property. There are some great quality PVC sliders in the marketplace today that most people would struggle to know that they were not timber. Run through horns, astragal Georgian bars and authentic period furniture can complete the look of modern day sash PVC windows. Another option to consider would be timber box sash replacements that can be double glazed and fitted with the traditional "weight and pulley" system or the more modern spiral spring balance. You obviously need to consider the cost options as well. A timber box sash window could cost as much as two and a half times more than a PVC sliding window, a casement PVC option could be less than half the price of the PVC slider. So as you can see a vast range of costs. Costs are dependent on sizes,  however as a rough guide if a PVC casement window was £450, a PVC slider could be £850 and a timber sliding window over £2000!
What design of window do you currently have?
Windows come in all shapes and sizes. They are generally as follows:-
Stormproof casement windows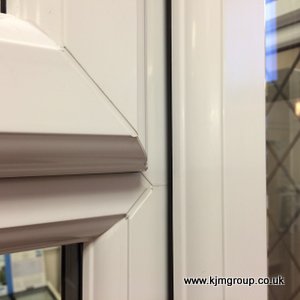 This type of window is the most common in the UK today, it has a lipped sash (that's the opening part of a window) and can be either side hung or top hung. The sash normally over-laps the frame which makes them protrude from the frame. Small top opening windows (often referred to as fanlights) offer better security for ventilation but no fire egress (a means or place of going out; an exit) option. Side opening casements normally offer excellent egress. It's not uncommon for windows to be manufactured with side casements and fanlights or just side casements on their own, the latter resulting in a "plainer" looking window. Please remember that all windows should have an egress option in habitable rooms, like bedrooms. A means of escape from your windows will provide safety for all those that live in the home.
Flush casement windows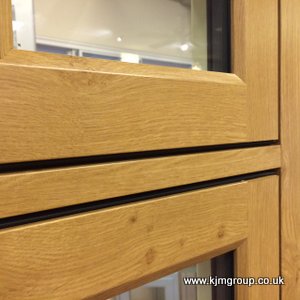 The casement on this type of window remains flush with the frame when closed so does not overlap the frame. They are available as side openings and fanlight styles
If your windows are the two types above what about the design of windows or type of openings? Some designs include fanlights…some don't. So what will suit you? Fanlights are an excellent way to provide ventilation without having larger windows open, some would say fanlights can ruin the sleek lines of some windows. However they are great on ground floor windows and bedrooms for "secure" ventilation.
The opening part of the window (sash) can upset the balance and sightline of the window, so some people prefer balanced or dummy vents to give equal lines of glass, some don't!
Sliding Sash windows
Often installed in the Victorian era, the sliding sash windows are generally much deeper than wide.
Modern day Tilt and Turn or open inwards windows
Windows that open and tilt inwards.  You may have noticed in Europe that a lot of windows open inwards and often operate like casement windows. Windows that open inwards helped with the fitting of external louvre type shutters, excellent for shading you home in hotter climates. Tilt and turn windows are a modern day example of this type of window.
PVC, Aluminium or Timber Windows?
After selecting the style that will either suit or enhance your property, you must select the material for manufacture. PVC windows have rapidly evolved over the last few years. Today we have examples of flush casements and storm-proof windows that look just like timber, but without the long term maintenance issues. Example of these windows include the Beaumont and Residence 9 windows. Other recent innovations include the new Graf-welded windows that offer the best welded joint in the market today, perfect for wood-effect PVC (See our Styleline page). The profile system the window is manufactured from will also affect the appearance of the finished product. At KJM we offer numerous systems including Profile 22, Veka and Deceuninck. My current personal favourite is the Deceuninck 2800 system. It's one of the nicest sculptured windows in the market, however that's my choice at not all our customers would agree!
Sometimes though your house might just need aluminium or timber windows, we have an extensive range of both. You should remember that if properties are either listed or in a conservation area then changing your windows will or may require planning permission. Sometimes just changing the design or colour of the windows will require approval.
Window Decoration & Colour
Windows can be white, wood effect or coloured. At the time of writing this article we have installed in the last few weeks, windows in green, grey and blue. The glass in windows can be Georgian grid or grille, clear or leaded.
Leaded Windows
Leaded examples can be diamond, square, rectangular or a period type, like Queen Anne, Windsor or Jacobean lead. Lead sizes can also be specified, the normal being either 6mm or 9mm lead. Other options include weather or aged lead that has a darker appearance, shiny lead that will gradually age over time.
Georgian windows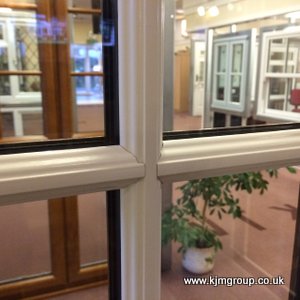 The modern type of Georgian window has aluminium bars between the panes of glass, which makes keeping them clean very easy. They can be specified in two different sizes normally 18mm and 25mm.
An astragal bar or grid system gives the attractive appearance of a Georgian window, divided into multiple panes.  Unlike Georgian window bars, which are integral to the window and set inside the sealed units, astragal bars are fixed to the glass on the inside and out. So you get the traditional, timber crafted look of multiple panes. The sealed unit has an internal spacer bar that further enhances this look.
Window Summary
As you can see there are many different options available to you. As we don't offer a hard-sell approach we always recommend a visit to our showroom in Andover Hampshire to view your options. There are literally hundreds of combinations available to you. We always do our best to advise on suitability; however the final choice must suit both your own taste and budget!
In this Blog I have just mentioned the look/design of the windows, after these options are considered, what glazing should you go for…28mm double or 44mm triple?? See my triple glazing blog for some answers.