Doors
Composite Doors - Online price - 10 Year Warranty
Welcome to our composite front door page. We have a large range of doors available from as little as £955 fitted including VAT. This webpage is our general door page showing a brief overview of our current range of doors. We have a large range of doors to view in our showroom in Andover Hampshire. Below (COMPOSITE DOOR BROCHURES) there is a selection of four door brochures for an in depth look at our entire range. These are free to download, no email address is required. Please feel free to email sales@kjmgroup.co.uk or ring us on 01264 359355 for a price on your chosen door.
Online Composite door prices

We are currently constructing individual web-pages for each of our Composite door suppliers. Here are the completed ones:-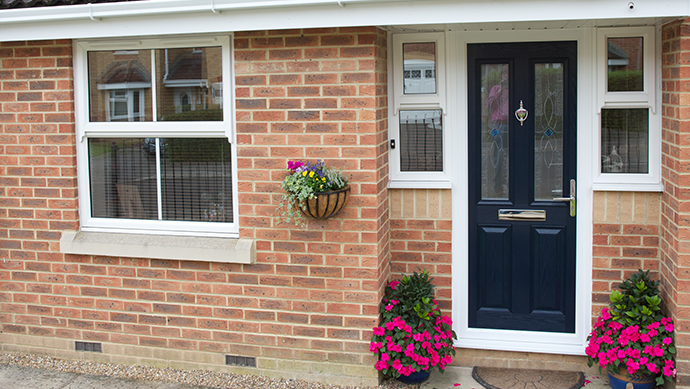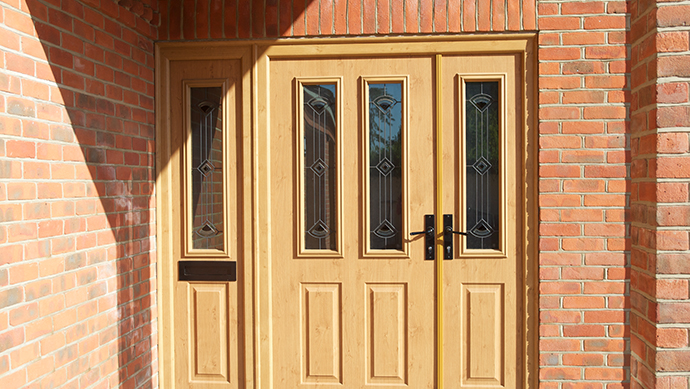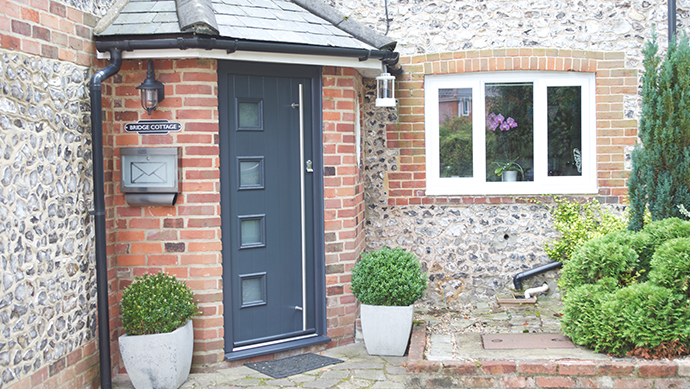 Available in these colours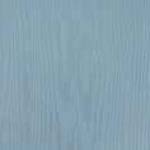 Duck Egg Blue Cream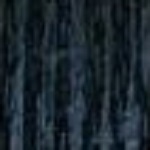 Black Slate Grey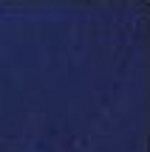 Blue Anthracite Grey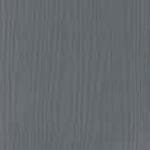 Moondust Grey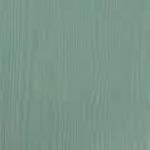 Chartwell Green
Red
The above colours are a small selection of those available - see brochures for manufacturer options
If you are searching for a distinctive entrance to your house, GRP composite front doors are designed to add value to your home, whilst retaining the traditional feel of timber. We supply the Xtreme, Distinction, Solidor and Veka composite door range.
Each composite door facing carries the hallmarks of the master mould-makers craft. Our doors are available in numerous colours and two wood-look varieties. They are normally white on the inside face and have a dense core material manufactured from high density foam. This provides both excellent thermal and noise insulation. The GRP doors come complete with a high security specification.
We have seven GRP composite door designs on display in our showroom in Andover, Hampshire.
Veka Composite Door Online Designer
Would you like to find out a cost or design one of our composite doors online? Click this link to provide an online price
Composite Door Brochures
Feel free to telephone or email us once you have chosen a design and we can give you a cost for your new composite door. All quotations from KJM are without obligation. Alternatively, fill in the enquiry form to the right and we can get back to you at your convenience.
Composite Door Features:
Inward/Outward options
High security specification
Multiple locking points
Anti-drill five pin cylinder lock
Handles options available (choice of colours)
Large selection of letter-boxes, doors knockers and numerals
Low aluminium threshold option for easy access
Different styles and glass options available
Yale key-free Composite doors
Glazing Options
Stained Units

All stained glassed units are individually hand made and may at times vary slightly from the computer-generated brochure. If you do not see the design you would like for the glazing in your composite door in our brochure we would be happy to discuss your requirements.
Sandblasted / Etched Glass

This handcrafted glass is now produced using modern technology and is designed to give a traditional appearance to your composite door. For a more dramatic effect this is often combined with striking glass bevels. Though generally obscure it does leave various areas clear.
Bevelled Glass

4mm shaped and polished glass facets, hand crafted and bonded to the glass with an optically clear resin then overlaid with lead.

Silver Grille

Our Silver Grille options feature attractive traditional motifs that are created using a highly polished chrome framework that is sealed within the double glazed units. Each Silver Grille design is available with a choice of backing glass.
Resin Bevel

Using the most advanced technology and manufactured under stringent quality controlled conditions this range of resin bevel effect designs has been introduced to complement our existing wide range of glass patterns. Resin bevels should not be confused with traditional bevels. Each resin is obscure and the design will occasionally produce minor imperfections that are generally regarded as acceptable. Designs cannot be interchanged and are available in 24mm and 28mm thickness. The resin is glazed on the inside piece of glass facing outwards and is not available with a choice of backing glass.
Composite front doors FAQ's
What is a composite front door?
Well let's start with the word 'composite', the definition of which is 'made up of several parts or elements'. In truth most manufactured items are made of different elements, however the GRP (Glass Reinforced Plastic) skin of a composite door can give a wood graining effect and vibrant colours, this not being an option on uPVC doors. Other common materials used in the construction of a composite door include a uPVC frame with reinforcing's, either a compressed foam or engineered timber filled core of the door and of course the hardware like locks, letter boxes, hinges and handles.
How much are composite front doors?
Composite doors have been around for decades, they were initially very expensive. Today composite doors come with foam filled cores, engineered timber cores and aluminium faced doors. They do all vary in cost, a typical foam filled core with glass would average around £1100-£1200, fitted and including VAT. Other variables that will add a reasonable amount to the cost of the doors include decorative glass units, sometimes even triple glazed and high end stainless steel bar handles and letter boxes.
Are composite front doors any good?
They are very durable, excellent quality and have a life span of many years. This type of door are also extremely low maintenance and easy to look after. Maintenance includes giving it a wipe over with hot soapy water, oil the hinges and other moving parts occasionally. This will keep your composite door in tip-top condition. Compared to older uPVC doors, they look just the part and can make the entrance to your home the envy of all your neighbours.
What is the difference between a composite door and a UPVC door?
uPVC doors are made with uPVC, whereas composite doors are made from a number of different materials. Composite doors come in a wider range of standard colours, although most uPVC doors can be sprayed any colour you like. One of the biggest differences is a composite door has two main components, a frame and a door leaf (sash). A uPVC door has the same two components however the decorative panel is the additional component, this make the door look bulkier and in some people's eyes cheaper looking. A quality composite door is usually made from superior materials which makes them stronger, more secure, durable and weather resistant as compared to a uPVC door.
Who makes the best composite doors?
A question that is often asked, the answer is not that easy to give in one sentence. Composite doors can vary in price by vast amounts, a foam filled core with no glass can be installed for less than £1000, fitted and including VAT. A high end aluminium door could easily be three times the price, as much as a bespoke hardwood door. Affordability is the key point as most doors will come with a reasonable manufacturer's warranty. The old adage is generally 'you get what you pay for'.
Why not visit our showroom in Andover to see our entire door range
KJM for Vista, Veka & Solidor Composite Doors in Andover, Hampshire. We install in Hampshire, Berkshire, Wiltshire, Dorset and Surrey.
Our no pressure promise
At KJM Windows & Conservatories, we pride ourselves on our no hassle, no pressure approach to providing high quality home improvement products to the thousands of customers who have put their trust in us since 1982.
find out more