Solidor Composite Doors
Solidor is the fasting growing composite door in the UK, they manufacture the finest composite door in the market today. The centre of the door is a 48mm solid hardwood core that is about 10% thicker than the industry standard.
Solidor Installation Case Study PDF – Further information on the video time lapse installation as below
Start Your Quote
Time Lapse Installation
Solidor Security Test
Sounds Like a Solidor
Solidor Locking Options
Avantis Lock
This is the high-security locking option exclusive to the Solidor range that has passed the PAS24 standard, for the ultimate security.
Key Wind Up
As the name suggest, the door is locked by winding the key, its does away with the modern lever style handles that can be replaced with older more traditional handles.
Yale Keyfree
21st century style locking with the Yale keyfree. It is an electronic lock that can be operated with a car style remote control locking fob or the numeric keypad
Heritage AV2 locks
This type of locking system replicates the traditional rim locks found on hardwood doors. This type of lock would be best described as "Auto Lock" as it locks automatically when closed. No external lever handles are required
Get a Quote
Ultion Door Cylinders
When an Ultion cylinder detects forced entry it activates an attack lock directly into the central cam, this is 'Lock Down Mode'. Even if the most determined intruder gets past Ultion's two sacrificial sections he won't get to the attack lock because it is protected deep inside a solid molybdenum core and secured with a dedicated retaining pin. When Ultion is in Lockdown Mode your door is safe.The cylinder has a market leading 11 pins, compared with 5 of cheaper cylinder locks. £1,000 Guarantee – all doors fitted with Ultion come with Ultion guarantee against forced entry (snapping) for 10 years from the point of registration. If you are broken into within that 10 year period, they will give you £1,000.
Ultion brochure – Download for free
Features associated with the door include:-
A unique 48mm solid core door, 10% thicker than most composite doors
256 door colour combinations through 18 colours inside and out.
Chamfered or sculptured 5 chambered uPVC door frames.
A secure locking mechanism, various choices including Yale keyfree, keyless digital lock, Avantis lock.
Exclusive door furniture including security upgrades like the Mila Pro Secure handles.
Fitted as standard with Ultion high security key cylinders.
Hardware Options
PVD GOLD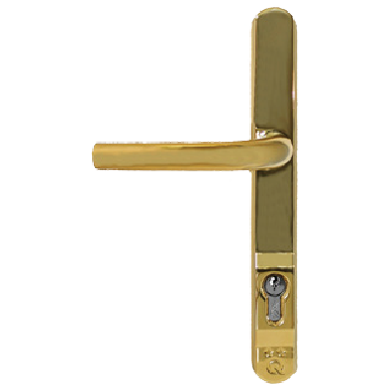 SATIN CHROME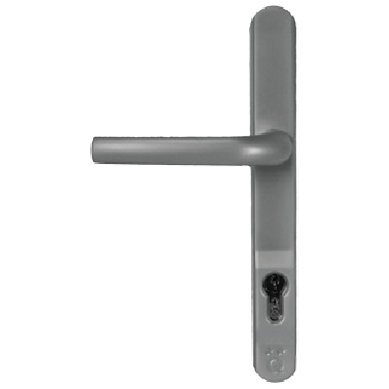 WHITE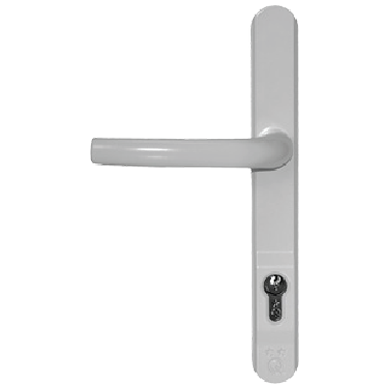 ANTHRACITE GREY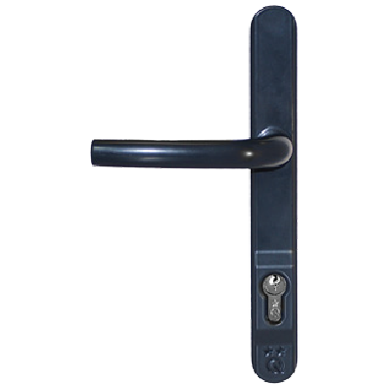 BLACK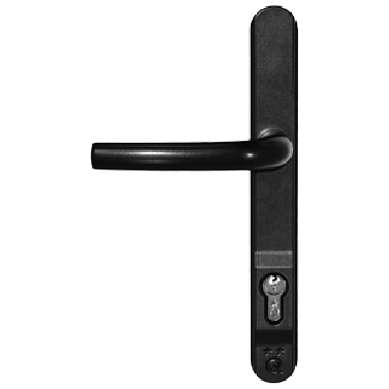 POLISHED CHROME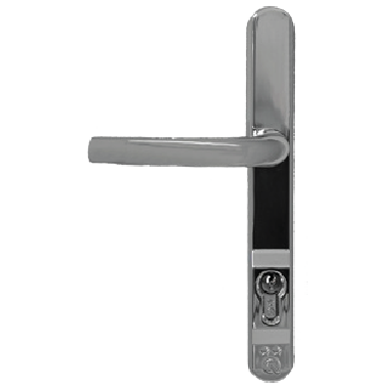 Scroll left/right to see more options.
Frequently Asked Questions
What are the minimum and maximum sizes available?
The regular sizes for our Solidor composite doors are: 843mm min up to 1013mm max width, and 1983mm min to 2193mm max height (calculated with standard UPVC threshold and a cill).
In certain circumstances, we can offer sizes outside of these parameters. Contact us directly to discuss.
How much are composite front doors?
Solidor composite doors vary in cost depending on the size, style and installation requirements. As a rough guide, the prices are usually in the region of £950 to £1200.
Other variables that will add a reasonable amount to the cost of the doors include decorative glass units, sometimes even triple glazed and high end stainless steel bar handles and letter boxes.
What colours can I order my Solidor door in?
Solidor doors are available in twenty eye-catching colours that can be used in any design style. Our colour options include Tangerine, Midnight Grey, Irish Oak,* Peacock Blue, Chartwell Green, French Grey, Lavender, Duck Egg Blue, Twilight Grey, Schwarzbraun Black,* Anthracite Grey,* Golden Oak,* Rosewood, Cream,* Black, White,* Green, Ruby Red and Blue.
You can have the same colour internally and externally, or select one of the colours marked * for the outside and use standard white on the inside.
Are Solidor doors thermally efficient?
Solidor composite doors are more thermally efficient than regular front doors. Solidor doors have a thermally efficient design that achieves a U value of 1.4 W/(m2K) and are an easy way to make your home warmer and help cut down on your energy consumption.
Awards and Accreditations