Other Products
Integral Blinds in Double Glazing - In-between the panes of glass
A double glazed unit with an integrated Screenline blind is an excellent screen against solar radiation. It also provides privacy with the pull of a cord or magnetic slider. Because the blind is located between the panes of glass, there is never a need for cleaning.The picture below shows our popular magnetic system with sliding controls for the vertical and tilt movement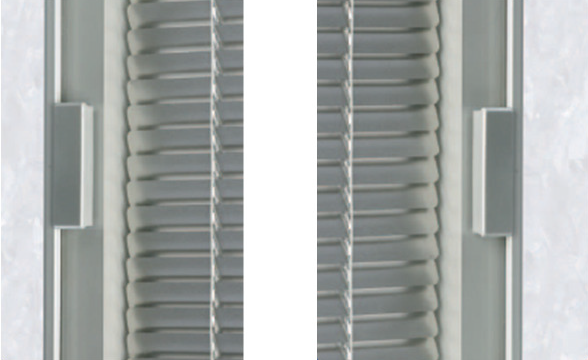 Our Integral Blinds in double glazing are also known as interstitial blinds or integrated blinds are high quality aluminium Venetian blinds in between two panes of toughened low e glass that form a double glazed sealed unit.
The idea of integrating blinds into double glazing has become really popular. Instead of the blind hanging behind the window or door, each glazed panel has an individual venetian blind sealed inside the glass unit. If you are designing or installing new windows or doors keeping the style (or number of panes) down, helps keep the costs lower.
Integral blind benefits
Manually operated for precise control
Only available on 24mm or 28mm units
Can be raised and lowered
Cord operated or magnetic sliding available
Can be tilted to regulate the level of light
Cannot get dusty
Provides privacy
Can be combined with high performance energy rated glass
Choice of 9 coloured slats
Priced from around £200 each supply only
You can specify the blinds with a quotation on our comprehensive range of glazing products. They will fit virtually any size of unit between 300mm x 2000mm, they cost around £230 per blind on a sealed unit of < 1.0 m2 and £250 for blinds over 1.0 m2. These costs are based when adding to a KJM window or door order. We would be happy to supply a quote for replacement units. Please remember they need to be 24mm or 28mm units.
Get your integral blinds in our range of windows or bi-folding doors
Supply Only Integral Blinds - See area covered below
If you require a supply only quotation for our integral blind system, then you can email our sales team sales@kjmgroup.co.uk or use our contact us form. It would be useful if you could specify both your glass requirements (energy rated type) and the size (width x height) of units required. If delivery is required then we also need a postcode. Please note we are only able to offer a supply only service within a 30 mile radius of Andover, Hampshire unless you can provide your own dimensions.
You can download our free brochures
Integral Blinds - Blinds between the panes of glass - KJM - Andover - Hampshire
Our no pressure promise
At KJM Windows & Conservatories, we pride ourselves on our no hassle, no pressure approach to providing high quality home improvement products to the thousands of customers who have put their trust in us since 1982.
find out more