Double Glazing Guildford
Timber - PVC - Aluminium - Windows, Doors & Conservatories in Guildford
KJM, an award winning company were established in 1982 and have been installing quality double glazing into homes in the Guildford area for many years. We promise a hassle free and no-obligation quoting service and always our best price first time, with no needless discounts.Our range of windows and doors is comprehensive and market leading. See the menu option for further details on our products.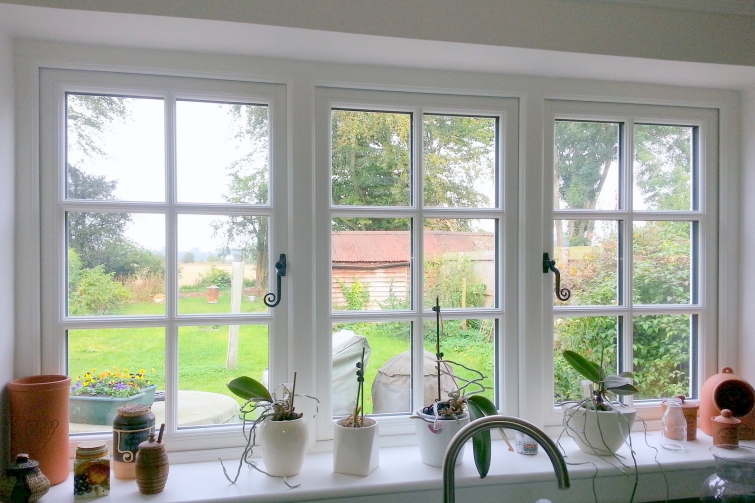 Why choose KJM?
Quotations are free and we promise that you will never have a sales person in your home any longer than is required. You can view further information on our promise here
We appreciate that there are many companies that offer double glazing, so we try and be different to all the rest. How you may ask? Our non-commissioned sales-team can show you that there is a huge range of windows available to you, with different materials for all budgets. Also we need to consider your local environment, do you need extra sound proofing?. We have the latest uPVC double glazing, including the Residence 9 and Beaumont window systems, windows that are that good, they could be mistaken for timber windows. We also supply a range of hardwood & aluminium windows, doors and conservatories to enhance your home. For the ultimate insulation consider our Triple Glazing. KJM are also Secondary glazing specialists, the best solution for sound insulation
Huge product range - not just uPVC
Which? Trusted Trader
Hampshire Trading Standards approved
Award winners and Installer of the Year finalist
See our feedback on Check-a-trade
Non commissioned sales team - they work for you not the job
Energy rated windows & doors including class leading 44mm triple glazing
Environmentally friendly Veka Infinity uPVC option
More detail on our product range:-
We can supply both trade and offer supply only costs for double glazing in the Surrey area and also are in partnership with local builders, who can tackle extensions and new-build projects.
Established in 1982 and award winning customer service
KJM have won many awards and have been trading over three times the length of our warranty period. Further information is available on our Credentials webpage
The best energy efficient windows have Swisspacer bars
Spacer bars which conduct less heat at the edge of the glass are referred to as 'warm edge spacer'
The benefits are as follows:
Reduced heat loss through windows
Condensation on windows can be reduced
Better sound insulation
Argon Gas filled sealed units
Filling the gap between the panes increases the thermal performance of insulating glazing units is to reduce the conductance of the air space between the layers. Originally, the space was filled with air or flushed with dry nitrogen just prior to sealing. In a sealed glass insulating unit, air currents between the two panes of glazing carry heat to the top of the unit and settle into cold pools at the bottom. Filling the space with a less conductive, slow-moving gas minimises the convection currents within the space, conduction through the gas is reduced, and the overall transfer of heat between the inside and outside decreases.
Low-E Glass
High-performance Low-E (low emissivity) glass is designed to reduce heat loss and must be used on energy rated windows. There are two types of low e glass, Hard Coat and Soft Coat, we use soft coat glass as it gives the following benefits over hard coat:
Better light transmission
Better U-Values
Enhanced clarity/neutrality.
Low Iron Glass
By reducing the amount of iron in the external pane of glass, the solar gain of the window is improved. KJM's 'A'-rated windows have this as standard.
Triple Glazing
When this web page was first written, we did not sell 44mm triple glazed windows & doors. Today we can improve on our best rated double glazing by over 40% with our Veka triple glazed range. You can find out more information on our blog page triple glazed windows.
If you have old uPVC windows, then they are probably very energy inefficient. Modern 'A' rated windows offer considerably better insulation and more secure locking mechanisms. See our free brochure download Replacing your old uPVC windows
Double Glazing Guildford -Triple Glazing -Windows -Doors -Composite Doors -Bi-folding doors- French Doors- Patio doors-Secondary Glazing-Car Ports-Trade Supply-Conservatories in Surrey