Timber - PVC - Aluminium - Windows, Doors & Conservatories in Dorset
How to choose a new front door
How to choose a new front door
A front door can significantly alter the appearance of your home so as with any major purchase, it makes sense to give front door replacement lots of forethought.  And while there are no hard and fast rules, some basic principles do apply.
This is our guide to some of the things you might want to consider when choosing a new front door.
Front Door Style
The first thing to consider is the right style for your property. You can be creative and if you get the balance right, it's possible to make bold choices but if you want to play it a little bit safer, there are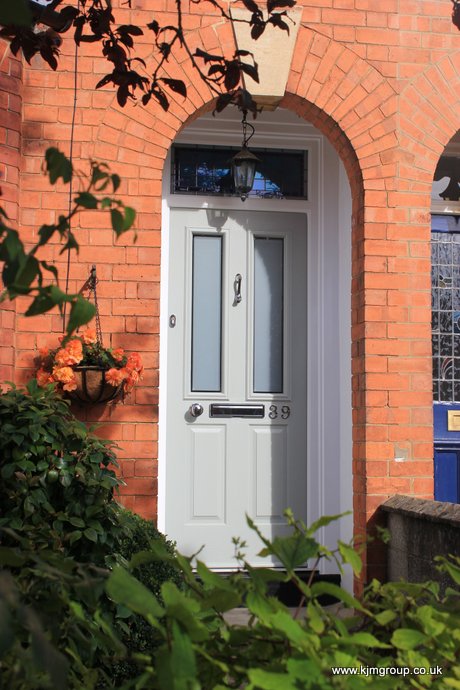 some basic rules that you might want to follow.
The first is choose a door in keeping with your property, it's architectural design and the period in which it was built. For example, Georgian or early-Victorian properties in most cases originally featured unglazed painted solid panel doors.
Later Victorian and Edwardian properties tend to feature a little more glass. The classical late Victorian and Edwardian door design features two infill panels at the bottom with two glazed panels above them. This design can also feature a top-light or glazed area above the opening door sash.
Stable doors can work well in country cottages and rural properties and can be opened at the top while the bottom remains closed, keeping young children and pets safely inside. However these doors are not alway suitable if they are "high traffic doors" due to the complex locking mechanism.
At the other end of the spectrum there are a raft of contemporary door designs to choose from. Solid or glazed, they deliver an opportunity to make a true statement about your home.
Which door material should I opt for?
Whatever your choice of door style, you need to perform. There are lots of different material options including wood, steel, PVC-U and composite doors to choose from. Each has its merits but again, a little research can pay dividends.
Solid hardwood front doors
The traditional material choice for a front door, timber delivers incredible natural warmth and an aesthetic quality that is very difficult to beat.
But you do need to prepared to look after it. Properly maintained, quality hardwood timber doors will last a lifetime but they will need regular painting or staining to do so.
Moisture is a wooden door's worst enemy. Damage to paintwork or varnish can lead to water ingress, which may cause your timber door to warp, crack, bow, jam or stick –  and if left unchecked, eventually rot. If buying a timber door it is worth considering Accoya, as this is the most stable timber in the market-place.
UPVC front doors
PVC front doors are popular among homeowners because they require minimal maintenance, particularly compared to the traditional timber doors, which they often replace.
They haven't always, however, enjoyed the best reputation for aesthetics and unsympathetic installations in period properties are a prime example of how the wrong door choice can impact negatively on a property's character.
There are, however, now a host of different colour finishes which give homeowners far more flexibility to select a PVC door which offers a sympathetic match to their home.
Composite front doors
Composite front doors offer more flexible aesthetics than PVC doors and seek to emulate the appearance of a natural painted timber woodgrain in a low maintenance and energy efficient and low maintenance door.
There are two types, solid timber core doors and slightly more energy efficient foam core doors but what both share-in-common, is a robust glass reinforced plastic (GRP) composite 'skin'.
As highlighted, this skin looks like a traditional painted timber door but that's where the similarities end. Water tight, robust and more or less, maintenance-free, GRP composite doors deliver a wood-effect but without the associated maintenance or maintenance related problems of wooden doors.
They can be painted to almost any colour but we would recommend 'through-colour' options. This means that the base layers are the same colour as the surface so knocks and chips are less likely to show on a door which has simply been sprayed.
Door security
Security is a determining factor in any door purchase. All new doors will deliver a high level of performance. Featuring multi-point locking mechanisms and anti-tamper door cylinders/key-locking mechanisms.
Our Solidor range for example, features the high security Avantis Lock as standard. It's also available with the Yale Keyfree system, which can be operated with a car style remote control locking fob or numeric keypad, which means no more lost keys – something great if you have teenagers!
Choosing a Secured by Design accredited door or one tested to PAS24:2016 guarantees the highest performance.
Door energy efficiency
Door energy efficiency is another critical element in your choice of door. Under Part L (Energy Efficiency) Building Regulations doors have to achieve a minimum U-value (measure of heat loss) of 1.8W/m2K.
Energy efficiency can be a challenge for some timber replacement doors, which will in most cases at best achieve U-values of 1.2 W/m2K. This compares to energy efficient composite doors which will achieve U-values as low as 0.6 W/m2K – in this scenario the lower the figure the better the performance.
Door glazing options
Our doors are also available in ultra-efficient triple-glazed and double-glazed options. Your choice of glass will be important in defining the appearance of your door and its fit to your home.
Your choice will be defined by your specific circumstances, for example is your hallway dark and could it benefit from extra light, in which a door which features as a minimum, half-glazing will be important. The internal colour can affect the light, the most popular choice being white to maintain the brightness, with a different external colour.
If privacy is important to you as it is to most of us, you may want to consider an opaque glass. Whatever your choice or choice of detailing, door glazing units should be manufactured from safety glass and laminated glass, which features a special tough inter-layer, if security is a particular issue.
Door Hardware
Hardware puts the finishing touches to your door from classic handle designs to contemporary pulls, your choice of hardware will also help to define the final appearance of your door. Again, our advice is keep it classical for period properties.
You can see our full door range here or visit our showroom in Andover, Hampshire