Fantasia Ceiling Fans/Lights
We offer a range of fans from Fantasia for our conservatories. They offer a solution for all tastes, from modern contemporary fans, to traditional designs. Fantasia fans combine larger motors with a steeper blade pitch to maximise the circulation of air whilst ensuring whisper quiet, economical and well balanced operation.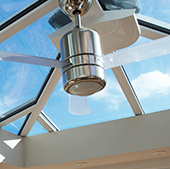 Fantasia fans can be more expensive than others on the market but this can be justified by their superior quality. The silicon steel motors are larger, meaning more air movement, and have double sealed bearings to ensure durability and quiet operation. All metal finishes are double lacquered to eliminate tarnishing. Elite fans are supplied with a 15 year warranty, Fantasia fans with a 10 year warranty and Eurofans with a 5 year warranty. There are not many companies in the market offering these warranties.
New for 2016
15 year warranty on fans within the Elite range
New styles on the Elite range
New range of desk-top fans
All Fantasia fans
Fan Brochure Download – 2016 Brochure
In the summer, the preferred direction for a ceiling fan to spin in is a counterclockwise direction as you look up at the fan blades. You will feel a cool downward airflow as you stand directly under the fan. In the winter, the preferred direction for a ceiling fan to spin in is a clockwise direction, this helps push the warm air back down, without causing a draught.
Ceiling Fan Prices
Please note we can get discount from these prices, however as a rough guide the price list would normally equate to a supply and fit cost if ordering with a conservatory (including the electrical connection). Supply only costs are available. Please contact us with your requirements.