Conservatories
UltraRoof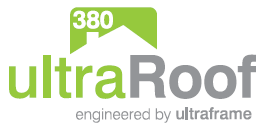 UltraRoof lightweight tiled roofing system gives you the most advanced replacement roof, or roof option for your new conservatory, available on the market today.

UltraRoof overcomes the twin issues of your conservatory being too hot in summer and too cold in winter, due to its excellent insulation. It creates a beautiful vaulted plastered ceiling inside and on the outside a stunning lightweight tiled finish. We have a complete UltraRoof in our showroom in Andover Hampshire, so why not pay us a visit to see the stunning look that can created.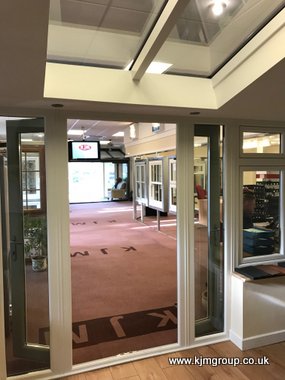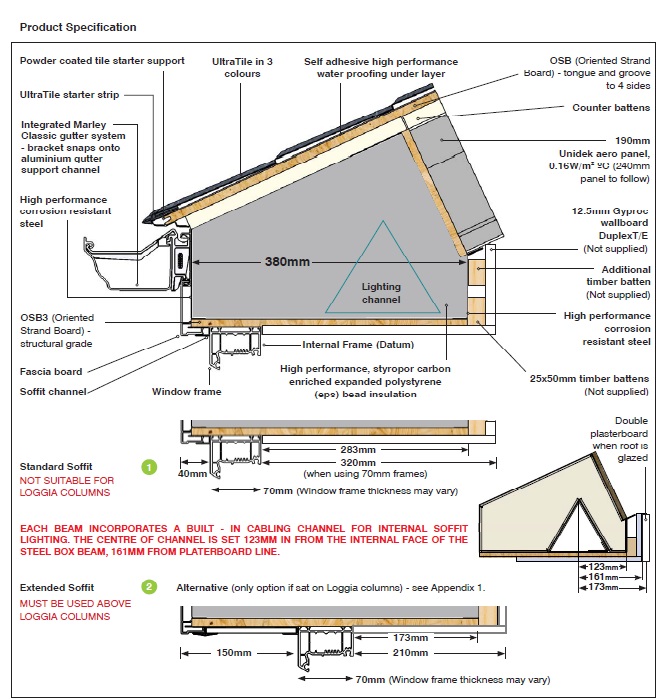 During KJM's 36 years history we have been helping homeowners enjoy a better sense of energy efficiency, space and light within their individual living/light space extensions. The UltraRoof was new to the market in 2017. We have concentrated on market leading roof and window/door products whose quality can only be matched by our award winning levels of customer service. The new Ultraframe roof represents some of the best design and performance currently possible with a solid conservatory roof.
For those who want a solid roof but still want to retain an element of light within the room, the clever configurable technology in the UltraRoof allows the installation of multiple glass panels or Velux Windows. This can help project light into the adjacent room and give you a truly bespoke design.
The roof is extremely thermally efficient due to its advanced design, UltraRoof is fully compliant with Building Regulations and has jhai system approval, giving you peace of mind from the outset of your replacement roof project.
Tiled roof
The Ultraframe roof comes with a choice of 3 authentic slate effect tiled colour options, so matching your new or existing conservatory to your home is never a problem. Either Carbon Grey, Harvest Brown or Terra Brick will easily compliment your home. The UltraTile polymer roofing is a new system that not only replicates the natural look of slate tiles but is easier to install and less expensive without incurring the extra structural cost needed to accomodate conventional slate roofing. The UltraTile polymer roofing system is also designed to outperform and be more cost-effective than any other synthetic slate tile replica system on the market today.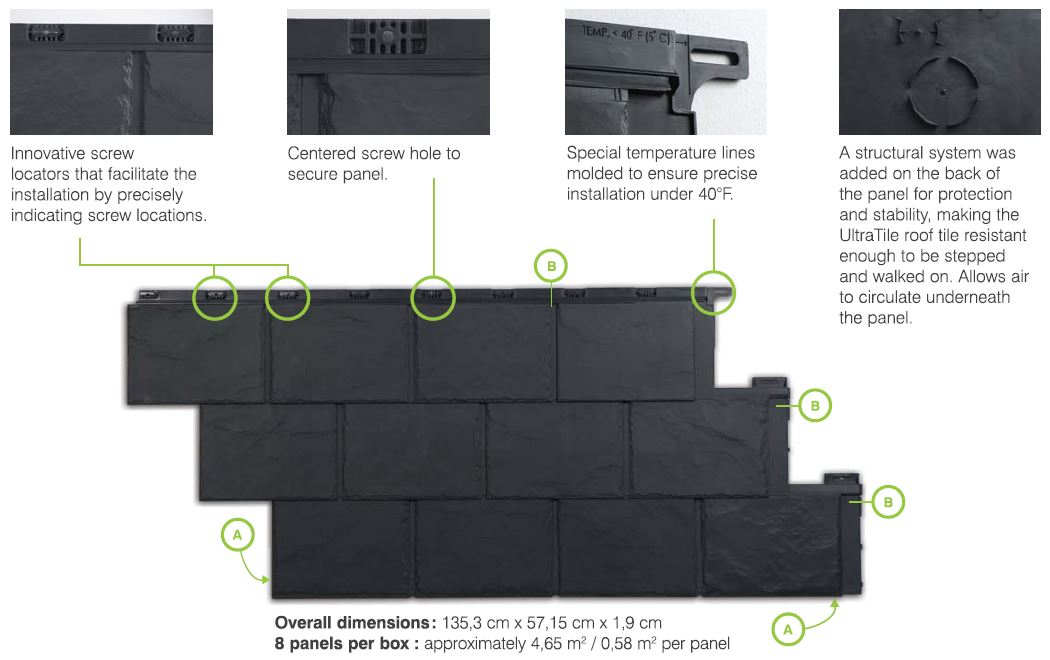 For those who want a solid roof but still want to retain the light within a room, the clever configurable technology in the UltraRoof allows the installation of multiple glass panels or Velux Windows – this can help project light into the adjacent room and give you a truly bespoke design.
Internal Ceiling
Internally the UltraRoof is second to none. Around the perimeter of the ceiling sits an internal pelmet which can be used to insert spotlights or speakers and at the apex of the roof you can choose to add a flat panel enabling you to insert down-lighters, a ceiling fan or hang pendant lights for main or mood lighting. The roof gives the feel of a true extension and offers market leading insulation values.
Internal view of a Lean-to style UltraRoof
LABC approved
Achieves a much lower U-Value (cooler in the summer and warmer in the winter)
Complete with a ten-year warranty
Internal ceiling is plastered unlike a conventional conservatory, so you can choose from a variety of lighting options including spotlights and downlighters
Download our free brochure on the UltraRoof
Download our free Replacement roof brochure on the Ultraframe roof range
Ultraroof FAQ's
Do you need planning permission to put a solid roof like an Ultraroof on a conservatory?
This is question that is not easily answered. KJM have found that different local planning authorities don't interpret the rules in the same way. Most planning departments accept that conservatories that fall under Permitted Development, require upgrading roofs from polycarbonate to glass, or to better glass, or to lightweight tiled roofs are acceptable. However, under the current planning rules, these are technically a material change (a visual change) so therefore can be challenged by a local authority. The Ultraroof comes with three different options of tile colours Carbon Grey, Harvest Brown and Terra Brick
If the conservatory is not considered a Permitted Development it requires planning, so the WHOLE project is assessed for approval (including roof materials). Please remember if you needed planning permission for the initial build then it is almost certain you will require it again.
If you require full consent to a project (in writing from the local authority) then the only route is via a Certificate of Lawfulness. These certificates are useful when you come to sell your home, because solicitors will insist on some proof. All in cases KJM would advise that you seek guidance from your local planning office.
Do you need building regulations to put a solid roof like an Ultraroof on an existing conservatory?
In most cases the answer to this question is yes. There is a lot of misinformation on the internet and we believe some companies are bending the rules. The LABC offer guidance on this and state this as a potential pitfall "There are several methods of reroofing an existing structure on the market - the easiest and often cheapest way is simply to wrap a new roof over and under the existing roofing system. However, this method is the most likely to overstress the existing roof and wall structure and great care is needed. If you are offered this solution, you should ensure the company quoting to do the work can evidence the stability of the structure with the increased loading and satisfy both you and your local authority building control team of its adequacy". You can view the LABC guidance document for re-roofing conservatories.
Are solid roof conservatories worth it?
The obvious benefit of an Ultraroof over a glass or polycarbonate roof is the improved insulation. The room will stay warmer in winter and keep off the strongest sun in the summer months. The value you will get from having an extension to your living space, is that it is usable all year round, so it is a considerable benefit. We think prospective buyers of your property will think so too. Most of the benefits of a solid roof are negated if your conservatory is your sunroom, requires a lot of light, maybe because you want to bring on plants in the spring, or you enjoy the solar gains it offers in the shoulder months of winter. So, the honest answer is if you need a room that you can use each and every day of the year (including the coldest winter evenings) then an Ultraroof solid roof is a perfect solution. If your requirement is not for extra space all year round and you don't need to use it on hot summers days or cold winter evenings then a solid roof maybe the incorrect solution. It is down to how you want to use your conservatory.
How much does it cost to covert an existing conservatory to a solid roof like a Ultraroof?
Over-cladding an existing roof is the cheapest solution, but may well not be covered by building regulations. Quoting a reliable figure for a Ultraroof based on rough sizes and a design is easily achieved by sending over some photographs and dimensions via email. We are also happy to help with a no obligation home visit, the choice is yours.
KJM have the expertise to help you create the full package from the first brick to the furnishings!
UltraRoof - Conservatory & Conservatories in Hampshire | Berkshire | Dorset | Surrey | Wiltshire
Our no pressure promise
At KJM Windows & Conservatories, we pride ourselves on our no hassle, no pressure approach to providing high quality home improvement products to the thousands of customers who have put their trust in us since 1982.
find out more