Timber - PVC - Aluminium - Windows, Doors & Conservatories in Dorset
KJM introduce the UltraRoof
KJM introduce the UltraRoof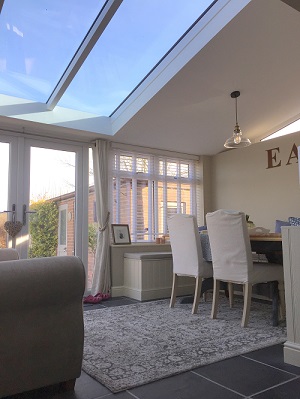 KJM Group has added the new Ultraframe conservatory replacement and new build modular solid roof to its product portfolio.
Highly-engineered, the thermally efficient UltraRoof emulates the appearance of a traditional tiled roof but can be installed in a fraction of the time and cost.
And because it weighs in at only a little more than a traditional glass roof at 38KG/m2 it can also be installed as a conservatory replacement roof.
Mark Pearce, Managing Director, KJM Group said: "The UltraRoof is a great new build solution, which means we can now install glazed extensions, which emulate a bricks-and-mortar extension but at a faction of the cost of a traditional build.
"Where it also comes into its own is as a conservatory replacement solid roof. Because the UltraRoof weighs only a fraction more than glass, it can be fixed directly on top of existing frames.
"Thermally efficient, this allows you to make far more of your existing conservatory, by eliminating solar gain through the roof, so it won't become too hot in summer, or too cold in winter."
Able to accommodate roof pitches of 12.5° to 41°, the UltraRoof can be fitted and water tight in as little as a day. It uses a specially designed modular system including thermally efficient Kingspan panel insulation, lightweight aluminium frame and tough, engineered copolymer interlocking roof tiles, which offer a match to traditional roof tiles and slate finishes.
Inside, the addition of plasterboard forms an airy vaulted ceiling, with internal soffit, for housing down-lights and internal cabling. Depending on your roof, it can also be designed to accommodate Velux-type roof lights or lower cost fixed window lights.
Mark added: "There are those products that come along every so now and again and you think 'wow'! The UltraRoof is one of them. It's just so flexible.
"If you have an older conservatory, you can breathe new life into it in as little as a day. If you're planning an extension, it's also worth exploration because of the potential savings over traditional systems that it allows us to deliver.
"Either way, you get flexible, year-round living space at very low cost."
To find out more about the thermally efficient UltraRoof call or email the sales team on 01264 359355 or sales@kjmgroup.co.uk.