Conservatories
LivinROOF Conservatory
The LivinRoof (Living roof conservatory) is the first roofing system designed to give you the flexibility to combine solid and glazed roofing seamlessly. You can extend your living space and enhance the thermal insulation to give you a room that you can use all year round.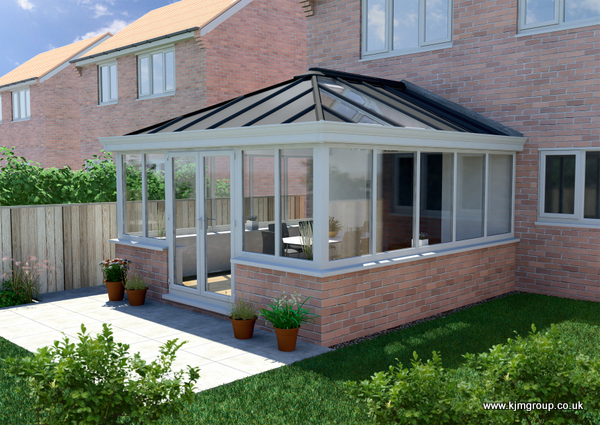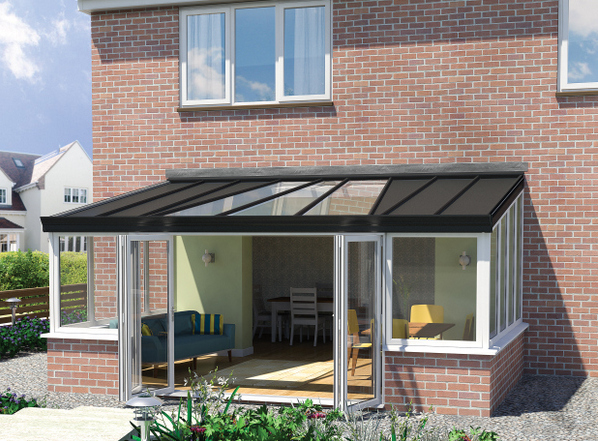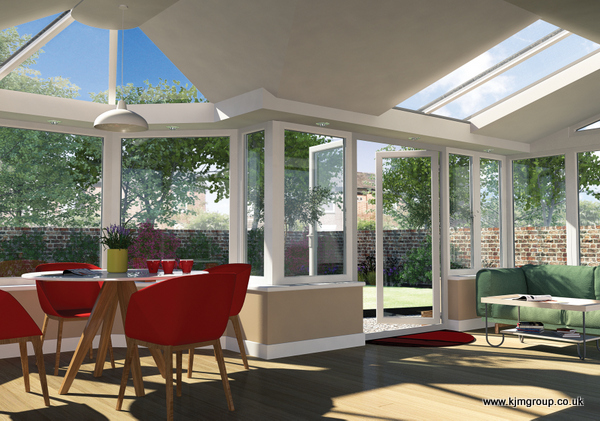 The LivinROOF conservatory is designed to provide the best-insulated conservatory on the market today. As standard, it has the plastered internal perimeter that can house low energy down-lighters. It gives a solid look to the conservatory creating more of a living room feel. The great feature of LivinROOF is that it can incorporate one, or a number of glazed panels that allows daylight to penetrate deep into your room, making the space instantly brighter, the remaining roof sections are manufactured from highly insulated aluminium panels. The internal space is stunning; it can deliver a plastered vaulted ceiling or the option of a suspended ceiling to match the ceiling height from the adjoining room in some cases. The U-value is a measure of how well a material serves to minimise heat loss, with a lower number indicating a better performing product. Typical polycarbonate conservatories range from 2.4w m/2k to 1.5w m/2k in U-value, depending on the thickness of the material. A value of 1.0w m/2k is seen as desirable for keeping the room cool in summer and warm in winter, this can just about be achieved with modern double glazed units. The LivinROOF has a U-value of just 0.18w m/2k, making it an incredibly efficient choice when it comes to minimising the energy requirements of your home.e windows can be from our casement or tilt and turn range, but to create the ultimate look sliding sash windows or Residence 9 windows are often specified. Unlike an orangery, it does not have an external flat roof around the perimeter.
Livinroof Conservatory Insulated Roof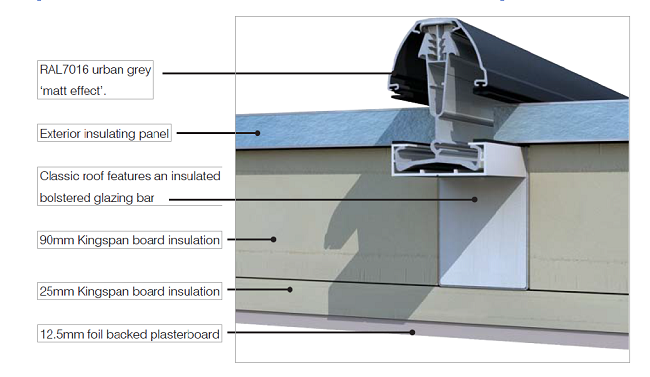 LivinRoof Conservatory Cornice
Externally adding the Ultraframe Cornice section hides the conservatory guttering and provides a smooth finish at the wall/roof interface.
This design can be enhanced further by using a solid wall, if being built close to the boundary and the use of bi-folding doors on one elevation can open up your new LivinROOF conservatory to the garden.
As with our entire range of conservatories the Livin Room can be specified with the latest self-cleaning glass from the Pilkington range, combining solar control to keep the room cooler in the summer and warmer in the winter.
LivinRoof Video
Download our free brochure with further information on the LivinROOF
KJM's LivinROOF roof conservatory can be specified with a number of features/options
Choice of roof glass glazing
External insulated panels only available in Urban dark grey colour
Choice of pelmet size with LED downlighters (if required)
Choice of frame glazing including sliding sash windows
Bi-folding doors, french doors or patio doors
Full electric pack including heating, lights and sockets
Plastering
Floor tiling
Furniture
Ceiling fans with lights
Roof and window blinds
See our Livinroof blog for more information
KJM have the expertise to help you create the full package from the first brick to the furnishings!
LivinRoof - Conservatory & Conservatories in Hampshire | Berkshire | Dorset | Surrey | Wiltshire
Our no pressure promise
At KJM Windows & Conservatories, we pride ourselves on our no hassle, no pressure approach to providing high quality home improvement products to the thousands of customers who have put their trust in us since 1982.
find out more