Timber - PVC - Aluminium - Windows, Doors & Conservatories in Dorset
When is it time to change my windows?
When is it time to change my windows?
Choosing the right time to replace your windows and doors can be difficult. Although much more affordable than you might think, it's still a sizeable purchase and it can be tempting to put things off.
But this can be a false economy. You could, for example be losing as much as 20 per cent of the heat from your home through older windows. Energy efficient windows and doors can cut this heat loss by up to 75 per cent.
In a detached three-bedroom home, according to the Energy Saving Trust, this can equate to an annual saving over and above single – and in many cases, older double-glazed windows – of up to £160 a year in heating bills.
But how do you know that your windows have had it? Well we've drawn up a check-list to help you make the right choice.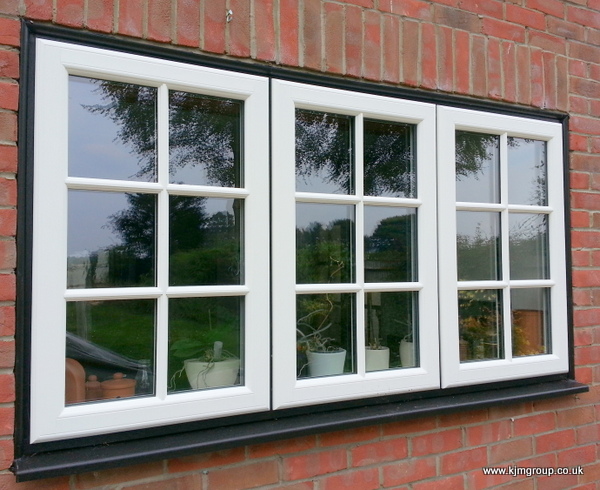 1. How old are your windows?
You can expect windows to last for around 20 years, although this will vary depending on material type, maintenance and position. For example, poorly maintained timber windows in an exposed wind and rain battered location may fail sooner than well maintained PVC windows in a more sheltered one. Even if it looks like it's in good condition, it's important to remember that older windows won't come close on thermal efficiency compared to new energy efficient windows.
2. Are windows damaged warped or broken?
This is an obvious sign that your windows at the very least need a little TLC, if not replacement. Even low maintenance PVC-U windows require a little oil and a wipe over now and again. Timber windows should be maintained regularly, including re-painting if frames are peeling.
3. Is hardware working correctly?
Window mechanisms can deteriorate over time. The weight of the sash and glass, for example on a casement window can impact on the hinge and opening and closing action. Although it can be caused by poor quality installation, it's more often simply down to wear and tear through use. Hinges can be replaced but it's another indicator that your windows are probably older and you're not benefitting from the energy efficiency savings or enhanced security new windows offer.
4. Are your windows lockable?
This is a tell-tale sign that your windows are old and should probably be replaced. Almost all new windows fitted in the last 20 years, feature locking mechanisms, either handles, or if they were fitted in the last 15-years, multi-point locking systems. These anchor the sash (the window opening) to the frame. If you don't have them you're property simply isn't secure.
5. Are your windows externally glazed?
This is another tell-tale sign that your windows are old and should be replaced as soon as possible. Take a look at your windows – is the glazing bead (the strip of PVC-U or timber, that surrounds the window unit or glass) on the inside or the outside of the window? In most cases if it's on the outside its an older window and represents a major security risk. In some cases burglars can simply 'pop' about the beading and take out the glass – replace them now!
6. You want to save on your heating bills?
New energy efficient windows may not look so very different from older ones but the difference in performance can be huge. New thermally efficient windows use low-emissivity (low-E) glass. This allows light and heat in, but reflects escaping heat back inside the room. This cuts window heat loss by about 20% to 30%, compared to double glazing without it. They also use argon, to fill the space between panes of glass in double-glazed units. A far better insulator than air, it reduces window heat loss by a further 3% to 9% more than old double glazing with air filling.
7. Are your windows misted on the inside?
This means that the double glazed unit has failed. Again this tends to mean that its older. If it did have argon inside, it means that it's now escaped, significantly compromising window performance. At the very least, get the glass replaced as soon as possible.
8. Do your windows look ugly?
Windows are a key element in defining the individual character of your property. During the early days of double-glazing there were far too many crimes committed against good window design and good taste, with some very unsympathetic installations, notably in PVC-U where there shouldn't have been. New PVC-U windows deliver all of the benefits – a high level of energy efficiency, security and low maintenance – but are available in a wide choice of frames, finishes and colours.
KJM Group offers an extensive range of low maintenance and energy efficient windows and doors, including casement, tilt and turn and vertical sliding windows and doors in PVC-U, timber and aluminium. This includes energy saving triple-glazed windows with U-values as low as 0.8W/m².K.
A finalist in the 2015 G-Awards installer of the Year category in November 2015, KJM Group also supplies a new generation of highly insulated and high specification conservatories, sun rooms and orangeries, plus bi-folding doors and inline sliding doors.
For more information email sales@kjmgroup.co.uk or call 01264 359355.