Timber - PVC - Aluminium - Windows, Doors & Conservatories in Dorset
KJM starts recycling old PVCu windows
KJM starts recycling old PVCu windows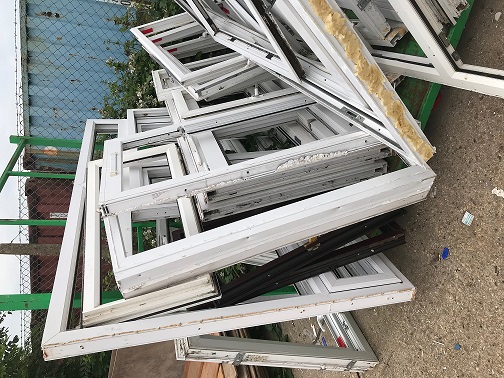 Hampshire home improvements company KJM is enhancing its green credentials as it demonstrates its commitment to a sustainable future. The construction industry contributes 30% of total UK landfill waste and Mark Pearce feels the industry can do better.
Mark, the managing director of Hampshire based KJM Group Ltd points out that this is one industry where recycling should come as standard. KJM has joined forces with a major Yorkshire recycling company Ecoplas to ensure that KJM leads the way not only in providing energy efficient products but also providing a new use for old windows and doors.
Mark said "The fenestration industry estimates there are around seven million window frames replaced each year and 80 per cent of these are uPVC window frames . Plastic windows are perceived as non-recyclable. This lack of understanding means the vast majority of these window frames are discarded once removed and find their way to landfill, contributing to the overall amount of waste produced by the construction sector."
Mark continued "There are alternatives to landfill. It may come as no surprise the some glazing companies simply take away your old uPVC windows and doors and put them into a skip. When the skip is full it is taken to a land fill site and dumped. In more extreme cases unscrupulous tradesmen and rubbish disposal one man-bands even dump or fly-tip your old windows and doors on the side of roads or in lay-bys, causing a problem to both the local council and environment"
In common with many other plastics, PVC-U is highly recyclable. In fact according to the Building Research Establishment (BRE), PVC-U can be recyclable 10 times or more, without impacting on material performance. The BRE also gives PVC-U window frames a reference service life (how long on average that they're installed for) of 35-40 years. Taken to its logical conclusion, this means that each individual PVC-U window can be recycled up to 10 times without losing performance giving it a total useful life based on its reference service life of up to 400 years.
This means that it became the first material of any type to be independently awarded an A+ material sustainability rating by the Building Research Establishment. The challenge is less in the recycling of PVC-U, much more in common with other plastics in stopping people from throwing it away.
Mark said "Coupled with the cost benefits to KJM, recycling old PVCu frames was something that we simply had to do. It is also really good to see the industry introducing windows systems manufactured from these recycled products, the Veka Infinity systems utilises this recycled material on the bits you can't see within the profile. I believe all windows should be manufactured this way"
Ecoplas is a registered waste carrier. Their goal is to prevent post-consumer windows and doors going to landfill. This not only environmentally beneficial but has a direct impact on project delivery and cost effectiveness. Under current government commitments landfill tax is set to continue to rise. By adopting and implementing sustainable practices companies can manage resources, build their environmental reputation and ultimately reduce costs.
See also our Blog article on recycling PVCu