Date posted: 04th June 2015
KJM introduce the Styleline Deceuninck 2800
Deceuninck 2800 manufactured with seamless joints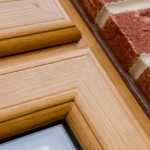 The Deceuninck 2800 profile system with a seamless weld makes an attractive addition to KJM's range. Most uPVC windows and doors are currently finished with grooved corners as a result of the corner cleaning stage. This process is needed in order to remove the surface plastic sprue when the two sections of the frame or sash are heated and welded together. This joint especially when manufactured with a coloured or woodgrain foil does not look 100%. However, with the revolutionary GRAF welder, the excess plastic is actually pushed inside the chambers, making the corner cleaning process completely redundant. The StyleLine products are not only superior in looks, thanks to the seamless corner joint, but also stronger.
Features and Benefits
Impeccable seamless finish of corner joint
High security internal beading
Multi point shootbolt locking
Key locking handles
Maco locking mechanism with hinge protecting claw locks
Fab n Fix Handles & Hardware
View our webpage www.kjmgroup.co.uk/products/windows/style-line-deceuninck
Managing Director Mark Pearce stated "This is another exciting addition to KJM's range. The Deceuninck 2800 profile range is in my opinion one of the best looking sculptured windows in the UK market place today. Its the profile we use on our Beaumont mechanically jointed windows. We are due to have two new windows installed in our showroom with this profile system and unique welded joint by July 2015"