For our complete conservatory range click Conservatory
Add value to your home with a conservatory
A conservatory will not only provide you with an impressive, attractive and desirable extension to your home, but a conservatory could also add significant value. According to a recent survey from the online bank Egg, a conservatory could add, on average an extra £11,000 to the value of your home and as conservatories continue to grow in popularity. By investing in a conservatory it will not only add value to your home, but will also provide a room that is flexible enough to be used in a variety of ways – you're not just buying another room – you're investing in a whole new lifestyle.
Conservatory Designs
There are many styles to choose from including the following:-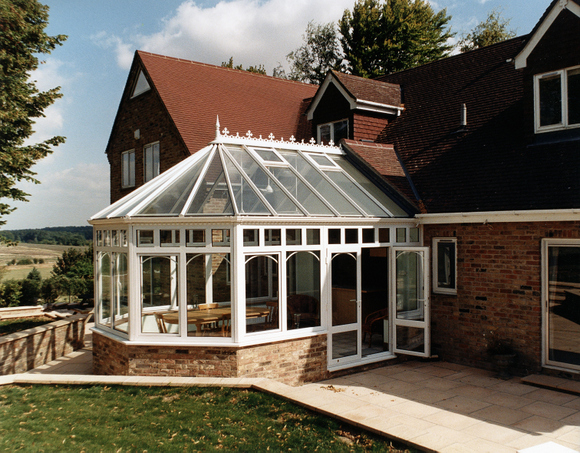 Glazed Roof Options
Older conservatories may have been installed with polycarbonate, or glass that's not thermally efficient. A replacement conservatory roof can transform your conservatory. Modern glazing is so much more efficient, in fact our reception at our showroom is a conservatory, we feel confident that whatever time of year you come to our showroom, you can see and feel the benefits of 21st century glazing. KJM from Andover in Hampshire have the solution to your problem.
New roof structures are provided through our supplier Ultraframe. Further information on roofs, polycarbonate and self cleaning glass can be found in our Conservatory brochure download section KJM are part of the Ultra Installer scheme, you can download our BBA inspection.
Why Choose KJM?
KJM, an award winning company were established in 1982 and have been installing quality double and triple glazed products into homes in the Basingstoke area for many years. We have been national G-Award finialist in the category "Installer of the Year" an amazing four times. Customer service is the ethos at KJM and we promise a Hassle-Free quotation process from non-commissioned employed sales staff. Navigate through our website to see our range of windows, doors and conservatories or please visit our showroom to see the products.