Timber - PVC - Aluminium - Windows, Doors & Conservatories in Dorset
Integral Blinds – Venetian blinds in a double glazed unit
Integral Blinds – Venetian blinds in a double glazed unit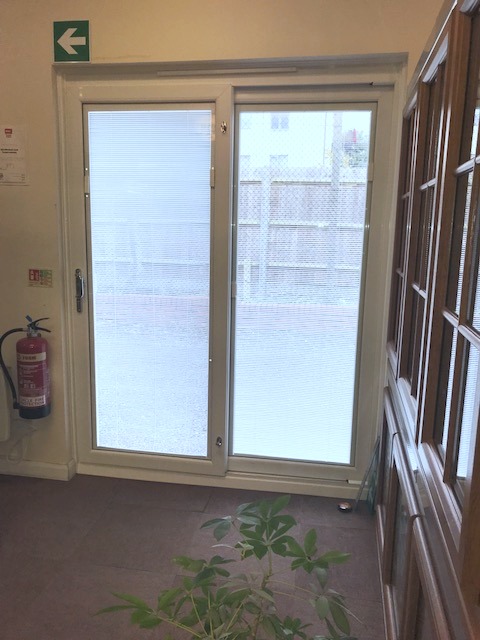 The system is operated by magnets on the outside that open and close (tilt) and raise and lower the aluminium blind. This means it can be easily controlled without any need to compromise the hermetic seal of the double glazing.
The Venetian-style blinds also known as integrated blinds or interstitial blinds are installed between two glass sheets inside the double glazed unit to give you the ultimate in protection from the heat and glare of the sun and at the same time making sure they stay clean forever.
Natural light through windows and ceilings like roof lights or roof lanterns is an obvious benefit to any room, but depending on the aspect of the room there may be a need for privacy. There could be different reasons for needing to keep a room private, like if a window faces a busy street or is a bathroom window.
Can you fit integral blinds to existing doors and windows?
The first consideration is the age of your windows and doors. If you have glazing that is over 10-15 years old it is worth seeking the advice of a specialist integral blind manufacturer or a reputable double glazing company/installer. Why? Because we need to check the sealed unit thickness. So the normal answer to this question is yes. You do however need to consider how the glass is installed in the current frames. Modern glazing normally has a bead type system that allows the glass to be easily changed in the event of the sealed unit breaking down (misting in-between the panes) or breaking. In most cases with PVCu and aluminium the beads can easily be removed. A note of caution is that some systems are actually built around the glass unit, so removing or changing the glass is not always possible or that easy. Timber windows and doors can also have a bead type system, although these can easily be split when trying to remove them.
Modern double glazing should be fitted with either a 24mm or a 28mm unit and if so, there is no reason why your glass cannot be replaced. Most blind systems are only available in 28mm units, although some do cater for 24mm unit. One final consideration is the size of the units. Really small or narrow glass units dont usually accept the blind system and of course there is a maximum size.
Integral blind operation video
The main advantages of integral glass blinds are:-
They can operate with cords, magnets or be automatically controlled
Integral blinds remain clean and protected from dirt and moisture because they are in the sealed unit
They are available in a huge choice of colours and options.
Modern and attractive look
They can help keep you house bright when open, secure when closed. They also can enhance the amount of light entering the room by angling the Venetian blades towards the sun.
KJM are a Hampshire based company and can offer a supply only service throughout the south of England and in some cases we can install your blinds for you, if your are local. If we are quoting for new windows, doors or even a conservatory we can obviously offer this blind system with most of our product range.