Timber - PVC - Aluminium - Windows, Doors & Conservatories in Dorset
Conservatory self-cleaning roof glass
Conservatory self-cleaning roof glass
Self-cleaning Conservatory Roof Glazing – Fact or fiction?
Pilkington Activ™ is described as a self-cleaning glass by Pilkington and as the name would suggest its glass that keeps itself clean. It uses an organic process whereby dirt is broken down by daylight and is then washed away when it rains. So does it work? When compared to normal glass it certainly does a much better job, will you still have to clean your conservatory roof? My answer to that is yes, as the structural bars will still get dirty and stubborn marks on the glass, like bird droppings may take a while to disappear.
Pilkington describe Activ™ as a two stage cleaning process as stated on their website "After years of development, Pilkington Activ™ is the world's first self-cleaning glass to use a microscopic coating with a unique dual-action. The first stage of the cleaning process is photocatalytic. In this stage the coating reacts with daylight to break down organic dirt. The second stage is hydrophilic. Here, instead of forming droplets, rainwater hits the glass and spreads evenly, running off in a "sheet" and taking the loosened dirt with it, also drying quickly without leaving streaks"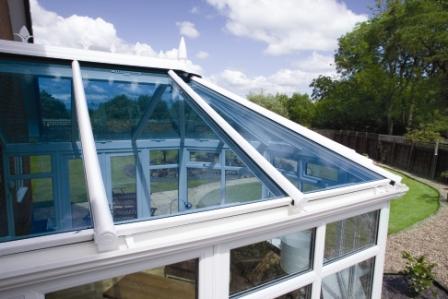 Organic dirt generally comes from living plants and creatures like bird droppings, whilst inorganic dirt comes from non-living sources.  The special coating needs around 7 days exposure to daylight to activate fully. Self-cleaning glass does work to a degree, as its special coating breaks down organic dirt, whilst reducing the adherence of inorganic dirt.
The coating on Pilkington Activ self-cleaning glass can break down even heavy deposits of organic dirt, but does need UV light on the glass to enable the breaking down process to work. So during long dry and normally dusty spells, or if your conservatory roof gets heavily soiled, you will need to clean the glass using a hosepipe, a soft cloth and warm soapy water.
The glass can be used on almost any external application, but comes in to its own on conservatory roofs. It is recommended that it is fitted on an angle of at least 10 degrees, but ideally 30 degrees to ensure a good water flow, when it rains.
Most Activ™ glass comes with solar control. The solar control range includes Bronze, Blue, Neutral, Sunshade Neutral and Sunshade Blue. These glasses give a Solar Heat rejection of 64%, 67%, 68% and 80% respectively. This is especially useful for the construction of a conservatory roof, especially if South facing, as it does keep your conservatory much cooler in the summer months.
All in all it is a good product and if you consider the solar control advantages of the product, then KJM do recommend its use on a conservatory roof, the term "self-cleaning" stretches the dictionary slightly, it would be much better labelled as "easy-clean" in my opinion.
Pilkington Activ Brochures