Key Product Features
Xtreme composite doors are renowned for their exceptional quality. They were designed with modern homeowners in mind and provide high levels of security, insulation, weather protection and soundproofing. 
Xtremedoor also comes in a variety of styles and can be adapted for any type of property. With their eye-catching aesthetics, huge selection of colours and hardware, Xtremedoors are a natural choice for anyone looking to upgrade their front door. 
Triple-sealed outer frame
High-security specification
Choose from hundreds of RAL colours
Wide range of accessories
Multi-point locking system
Why Xtremedoor?
Xtremedoor is a guaranteed way to improve your home. These ultra-modern composite doors are built around a high-performance insulating foam core and their outer frames are triple sealed. This gives them a level of energy efficiency above and beyond other composite doors, achieving U-values as low as 0.8 W/m²K
Xtreme composite doors will help your home retain heat and minimise your carbon footprint. They're an environmentally friendly choice and will cut down your heating and cooling bills as well. Xtremedoors are six times better at insulating homes than conventional timber doors and their weather seals will keep out draughts. 
There's no danger of water seeping into the body of the door and causing issues either. Xtremedoors have waterproof skins and triple-sealed uPVC outer frames to prevent moisture ingress. Choose Xtremedoor and you'll never have to deal with it swelling or sticking due to heavy rainfall. This also means their colours won't fade and they won't crack, their Glass Reinforced Plastic (GRP) skins protect them from the sun too. 
VISIT OUR GALLERY
Customisation Options
With Xtremedoor, there's a world of possibilities when it comes to customisation. They're available in three distinct styles; traditional, modern and the new County Collection. Each has multiple designs and they can all be personalised with colour, hardware and eye-catching glazing. Xtremedoors are versatile and we can help create the perfect new front door for you.
For example, you may be tempted by a Tudor door from the traditional collection. Its classical look recalls the doors of the 1930s and you can achieve a striking appearance with a woodgrain finish, some glazed panels and sleek chrome hardware. 
Alternatively, ask about the modern collection for a more contemporary vibe. These doors are perfect for stylish new-builds or prestigious apartments. Guests will be impressed by the cutting-edge air of a Stuart or Verona door, the sleek lines and modern handles giving them a sophisticated twenty-first-century look.
Or if you're searching for an authentic heritage feel, the County Collection is just the thing. Inspired by the verdant countryside of England's green and pleasant land, the County Collection have a calming, timeless look. A Cheshire design is perfect for making the great outdoors feel closer to home, while the Norfolk and Suffolk doors offer clean, un-fussy vibes that will match beautifully with rural properties. 
High-Security Composite Doors
Safer homes are at the forefront of Xtremedoor design. Every Xtreme composite door is equipped with an up-to-date modern lock that will frustrate would-be intruders. We use multi-point locking systems and anti-pick, anti-drill, anti-bump, and anti-snap cylinders fitted with guards, so even the most committed burglar will struggle to get the door open.
Xtreme composite doors can also be fitted with an optional electric lock that can be wired into your intercom system. Xtremedoors are compatible with the AV2e automatic lock; a sophisticated device that automatically engages when the door is closed. For homes with high-security needs, the AV2e is a perfect choice. 
Thanks to their robust profiles, Xtremedoors will resist any attempts at forced entry too. The door slabs are thick and sturdy and thanks to their GRP skins, will withstand direct strikes. Xtremedoor worked alongside Greater Manchester Police while developing these doors and during testing, they were even able to resist repeated hits from an Enforcer. Xtremedoors can be upgraded to achieve full Secured By Design accreditation. They'll make your home more secure and give you complete peace of mind.
Hardware Options
PVD GOLD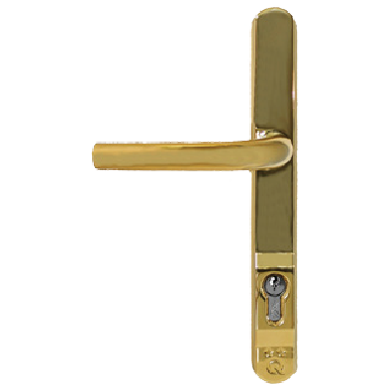 SATIN CHROME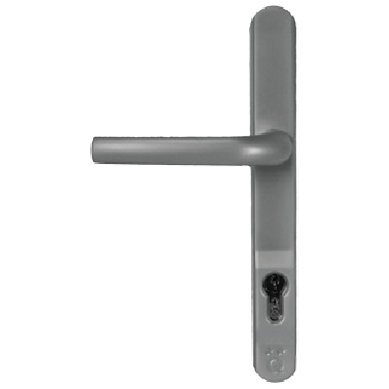 WHITE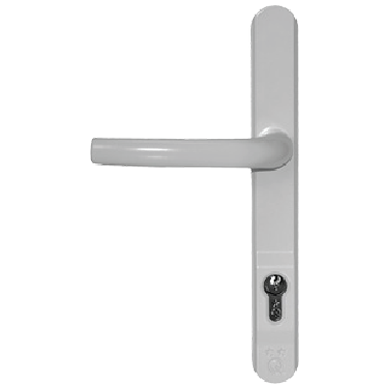 ANTHRACITE GREY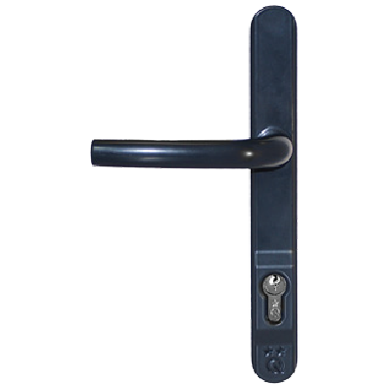 BLACK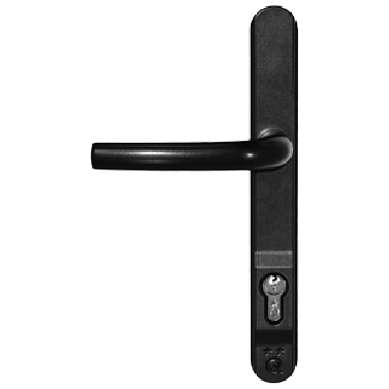 POLISHED CHROME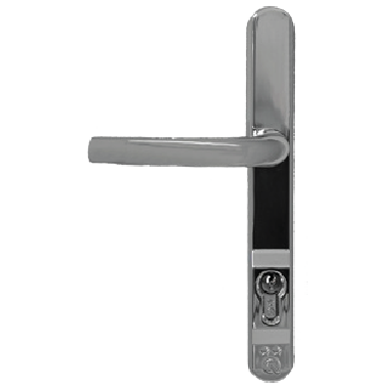 Scroll left/right to see more options.
Extremedoor Prices Andover & Hampshire
Composite doors have been around for decades and when they first appeared, were considered a luxury item. Thanks to technological advances though, it's now possible to create them at far more affordable prices. 
Our Xtremedoor prices vary on a case-by-case basis and depend on your specific requests.  Contact us for a free quote today and find out how much your new door is likely to cost. 
Frequently Asked Questions
How Are Xtremedoors Different To Other Composite Doors?
All composite doors are made with multiple materials that are built around a central core. In most composite doors, this core is made with timber but Xtremedoors take it a step further. They have a 44.5mm foam core and uPVC edgebanding which gives them superior insulating qualities for warmer homes.  
Can I Replace My Old Front Door With An Xtremedoor?
Absolutely. Xtremedoors are the ideal replacement for your old timber or uPVC doors and can be custom-made to suit your exact style. 
I Live In A Conservation Area, Can I Still Get An Xtreme Composite Door?
It varies from case to case, but in most examples, yes you should be able to get one. Xtremedoors can be designed to replicate traditional timber aesthetics which makes them suitable for the majority of conservation homes. We'd suggest checking with your local authority to be certain but we've installed Xtremedoors (and other composite doors) in numerous conservation areas before. 
Do Xtremedoors Warp?
No. Unlike timber doors, Xtremedoors are highly resistant to warping regardless of how much the weather fluctuates. They're also far less likely to experience problems with rot, mould or other water damage.
What Areas Do You Cover?
We are based in Andover and can install Xtremedoors in a wide area. We cover all of Hampshire and the surrounding counties such as Berkshire, Dorset, Surrey and Wiltshire.
Do Xtremedoors Require Much Care And Maintenance?
No, quite the opposite. Xtremedoors are built to last and you can rely on them for years without having to worry about repairs or maintenance. They only require the occasional cleaning with a damp cloth and lubricating the mechanisms twice a year to continue performing and looking at their best. 
Vista Xtreme Composite Door Brochure
Links Urban Composite Door Brochure
Veka Composite Front Door Brochure
Solidor Front Door Brochure
Composite Door Care and Maintenance
Xtreme Composite Door Cleaning Guide
Solidor Composite Door Installation - Case-Study
Ultion Lock Cylinder
Comp Door
Awards and Accreditations