Doors
Xtreme Composite Front Door
XtremeDoor is a high performance composite door that will protect your home from the very worst of British winters, it is manufactured with high security as standard. The extensive range of colours inside and out and a quality range of hardware, give you choices that are endless.
New in 2020
New Designs
New glass options
GRP skin thickness increased to 4mm (100% thicker)
Easily Document Q Compliant (if required)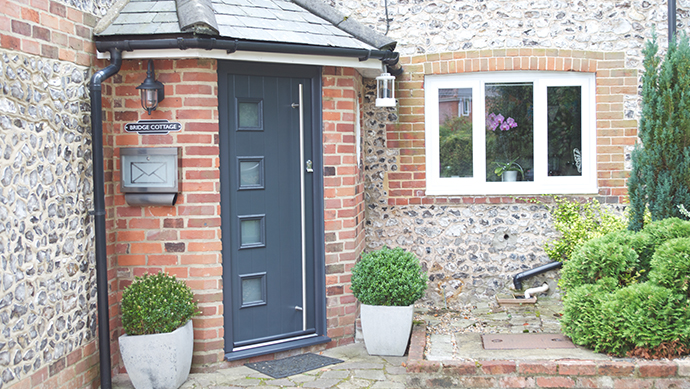 Our Vista Xtreme composite doors are manufactured from high density foam insulation with a GRP coating internally and externally to give you the unique look and feel of a traditional wooden door but without the draughts, swelling and shrinkage.
All of our door range is available with a wide variety of threshold options, including low aluminium and low PVC thresholds. Handles are available in Satin Silver, Chrome, Gold, Black and a White finish. This composite door outperforms all other composite doors in the market for security, weather performance and insulation in its standard range. Premium quality letter boxes and door knockers add functional and the personal touches to your front door.
According to statistics, 67% of burglars break in through the door, but when it comes to security with the Xtreme composite door there are no compromises.
Features associated with the Xtreme Composite door can include:-
Extensive range of door styles
Many colour options available
Five hook locks
Anti drill, snap, pick, bump cylinder with cylinder guard as standard
PAS 24 2016 Enhanced Security accreditation
Three adjustable hinges
Triple sealed outer frame
High insulating foam core
Secured by Design
Easily Document Q compliant (ask for details)
A secure locking mechanism, various choices including Yale keyfree,
Stainless steel long-life door furniture
Xtreme door security
As part of XtremeDoor's security testing our manufacturer teamed up with the Police to ensure our range of composite doors could hold their own when confronted with a potential intruder. During testing the police had trouble gaining entry to it using an Enforcer. It goes to show how secure an XtremeDoor really is. Gaining entry is both noisy and requires specialist tools, so you can rest assured your home is safe.
Xtreme online door designer
Design an Xtreme door Online and recieve a quotation.
You can use our online quoter to to help design a door and we can provide you a quotation (subject to survey). If you are unsure of your door size (you can measure the external size between brickwork) or input a standard size 925mm width by 2100mm (assuming the door has no side light or top light). A small variation on size does NOT affect the cost. The online designer also enables you to superimpose your new door onto a photo of your home.

Xtreme Composite Door Brochure
Download our free Xtreme Composite Door Brochure 2020
Xtreme door cleaning & maintenance guide
Thermally efficient doors
Upgrade your old front door to something more thermally efficient is an easy way to make your home warmer and help cut down on your energy consumption. XtremeDoors are better at insulating than conventional timber doors – in some cases six times better than timber. This range of doors will use less energy so you can enjoy a warmer home by replacing your front door with an XtremeDoor. A combination of a high insulating foam core and PVCu edge-banding makes XtremeDoor incredibly thermally efficient. It will keep your home warmer when it's cold outside.
Xtreme Composite Door FAQ's
Can my Xtreme door be specified Secure by Design?
Yes it can, Secured by Design (SBD) is a police initiative put in place to reduce burglary and crime in the UK by designing out crime through physical security and processes. There are some items that need upgrading from the standard door offering. These items include a door safety chain, laminate glass, a viewer, so you can see who is on the other side before answering the door and finally an upgraded letter box that stops 'fishing'. Fishing is a common method of attack whereby items such as keys are removed from the home via the letter-plate. It is basically an inner flap that prevents access to the area around the inside of the door. The lock and cylinder meet the SBD standards and don't need upgrading.
Postmaster Professional Letterplate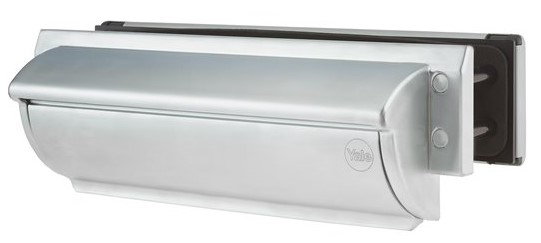 What colours can I order my Xtreme door in?
You can order your Xtreme composite door in one of the seven standard range of colours, these include White, Red, Green, Blue, Black, Light Oak and Rosewood. Premium colours are available for a small surcharge and include Cream, Chartwell Green, Duck Egg Blue, French Blue, Royal Magenta, Anthracite, Slate and Moondust Grey. If that is not enough to choose from then you can have your door sprayed to any RAL colour you desire! There is the option to colour both sides of the door as well, the standard offering is for the internal face of the door to be white.
Are Xtreme doors thermally efficient?
An Xtreme front door is more thermally efficient thanks to a combination of a high insulating foam core and PVCu edge-banding. It is an easy way to make your home warmer and help cut down on your energy consumption. Xtreme doors are better at six time better insulating than timber.
Xtreme Door Prices from KJM in Andover - Hampshire - Berkshire - Wiltshire- Dorset
Our no pressure promise
At KJM Windows & Conservatories, we pride ourselves on our no hassle, no pressure approach to providing high quality home improvement products to the thousands of customers who have put their trust in us since 1982.
find out more