Windows
Secondary Glazing - Sound and heat insulation

Secondary glazing is a great way to enjoy warmth, security and quietness of double glazing without replacing your existing windows. Secondary glazing will reduce sound transmission by up to 70% and improve your heat insulation.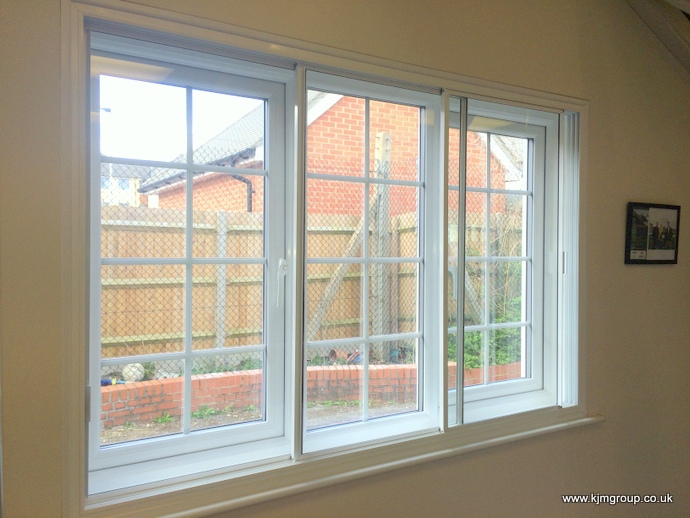 The image above shows a three section horizontal slider secondary glazed unit
Secondary glazing is particularly useful when replacement windows are not suitable for your property and is ideal for homes that are traditional, listed buildings, in conservation areas or just don't need replacing. We install secondary glazing across Hampshire, Wiltshire, Dorset, Berkshire & Surrey, we also offer a "supply only" self-fit option.
Secondary glazing involves adding an extra slim-line window to the inside of your existing window, KJM's units are manufactured in the England from strong lightweight aluminium, that can be directly fixed to the existing windows, or manufactured with a sub-frame to allow for either reveal fixed or face fixed. The wood used for the subframe is either MDF (medium density fibreboard), Luan (dark hardwood) or Tulip (pale hardwood). The optimum gap to reduce heat loss and keeping external noise to a minimum is 100mm between the secondary glazed unit and your existing window (glass to glass). However, this would normally mean that little or none of the internal cill would be left. Changing the thickness of the glass between your existing window and your new secondary glazing will change the frequencies of the sound wave length and reduce noise further. i.e. Existing window glass 4mm - install secondary glass 6mm.
For an even better thermal performance, you can specify Pilkington K low e glass and for extreme situations we offer a heavy duty system that can take a double glazed unit.
The most common systems manufactured are sliding units, that can be either horizontal or vertical. However Tilt back vertical sliders, hinged units, lift out units or fixed units are available. We have an installed example of our secondary glazing (3 pane horizontal slider), in Andover, Hampshire.
Download our free Secondary Glazing Brochure
The benefits of secondary glazing:
Secondary glazing is one of the best ways to reduce noise and sound proof your windows, it can reduce external noise by around 75%. This can be enhanced further by specifying either Laminate glass or Stadip Acoustic Glass.
Draught Proofing is the other most common reason to install secondary glazing.
Low E Pilkington K glass (option)
Secondary double glazing units available
Our secondary glazed system can even incorporate fly-screens
Extra security
Retains the exterior look/character of the property
Secondary Glazing Options
Horizontal slider
Side Hinged
Vertical Sliding
Fixed Units/Lift Out
The horizontal slider is the most common type and works well with traditional casement windows, the vertical slider suits sliding sash windows or fanlight style windows. Side hinged units are used on narrower windows, fixed or lift out units are specified on windows that either do not open or are not opened often
Stadip Glass -The best acoustic performance
Stadip Silence glass is a laminated product from Saint-Gobain. Laminated glass is a sandwich made of one piece of plastic Poly Vinyl Butyral (PVB) between two or more glasses. The PVB in Stadip glass is a special acoustic interlayer - PVB Silence®. This layer acts like a dampening core between the two panes of glass. It prevents vibration, eliminating the problem of the critical frequency and thus the acoustic peaks at high frequencies. Download our free Stadip Silence brochure
Thinking about secondary glazing?
To find out more about the many different types of secondary glazing solutions call us on 01264 359355 or sales@kjmgroup.co.uk Alternatively why not visit our showroom in Andover, Hampshire to see our entire window range.
Secondary glazing - KJM in Andover Hampshire. Also in London, Surrey, Berkshire, Dorset & Wiltshire
Our no pressure promise
At KJM Windows & Conservatories, we pride ourselves on our no hassle, no pressure approach to providing high quality home improvement products to the thousands of customers who have put their trust in us since 1982.
find out more